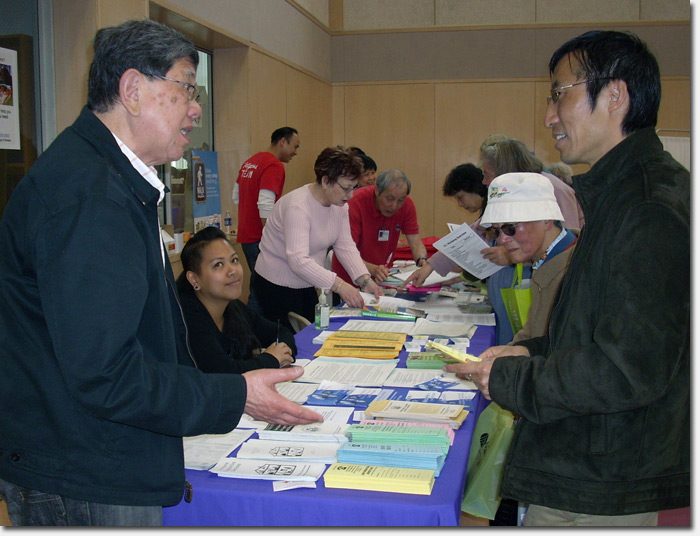 Healthier Living Program Coordinator Ken Wong and Supervisor Eric Mar at the
Richmond District Community Health Festival on May 14, 2011
Starting Saturday, June 29, the Richmond District YMCA (360 18th Avenue) will host a series of free "Healthier Living Workshops", designed to help people with chronic conditions like arthritis, diabetes, high blood pressure, heart problems, and other chronic conditions.
Workshops at the YMCA will be offered in English, and the same curriculum will be offered in Mandarin Chinese at the Richmond District Police Station (461 6th Avenue).
Classes can help participants and their caregivers improve quality of life. At the workshops, participants will learn how to:
Manage pain, stress, and fatigue
Be more fit and eat healthier
Work more effectively with your doctor and healthcare professionals
Set goals and problem solve to make positive changes in your life
Feel better and reduce your healthcare costs
The classes were developed by the Stanford University School of Medicine and are hosted by the SF Department of Aging and Adult Services.
Classes will be held every Saturday beginning June 29 for 6 weeks, with the last class on August 3rd. English classes will be at the Richmond District YMCA from 10am until 12:30pm; Mandarin classes will be at the Richmond District Police Station from 9:30am until 12noon.
It's free to participate, but pre-registration is required. For English call the Richmond District YMCA at 415-666-9622. For Mandarin, call Wan Na Yu at 415-775-5052.
Sarah B.