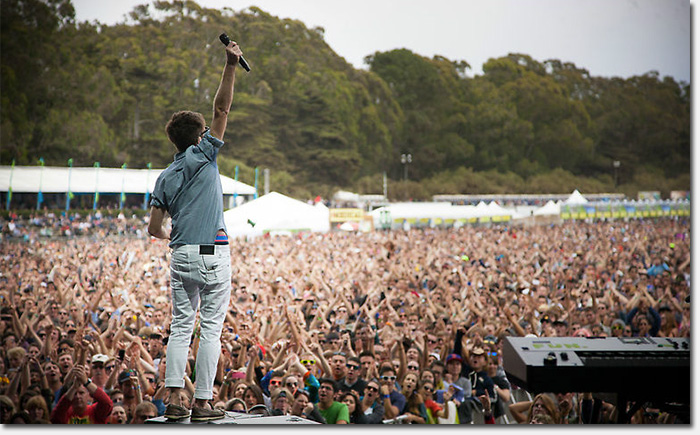 fun. performing at Outside Lands 2012
It's year six for the Outside Lands Music Festival, and this time they're rolling out the red carpet to welcome Sir Paul McCartney to the foggy stages of Golden Gate Park. Other headliners include Nine Inch Nails, Phoenix, Red Hot Chili Peppers, Kaskade, Vampire Weekend, Willie Nelson, The National, and Yeah Yeah Yeahs (view the full lineup).
If you live near the park and will be welcoming people to the neighborhood each day, here are some tips to help you negotiate the crowds and traffic – and give the best advice to the 65,000 concertgoers that will be visiting the festival every day this weekend.
WHEN & WHERE
The festival runs for three days, beginning Friday, August 9 through Sunday, August 11. Venues in Golden Gate Park include the Polo Fields (main stage), Hellman Hollow, Marx Meadow and Lindley Meadow. On all three days, gates open at 11am, music begins at 12noon, and music ends at 10pm (9:40pm on Sunday). The festival is officially sold out for all three days.
Entrances into the festival are near 30th Avenue and Fulton on the north side of the park, and near 36th Avenue and Lincoln Way on the south side of the park.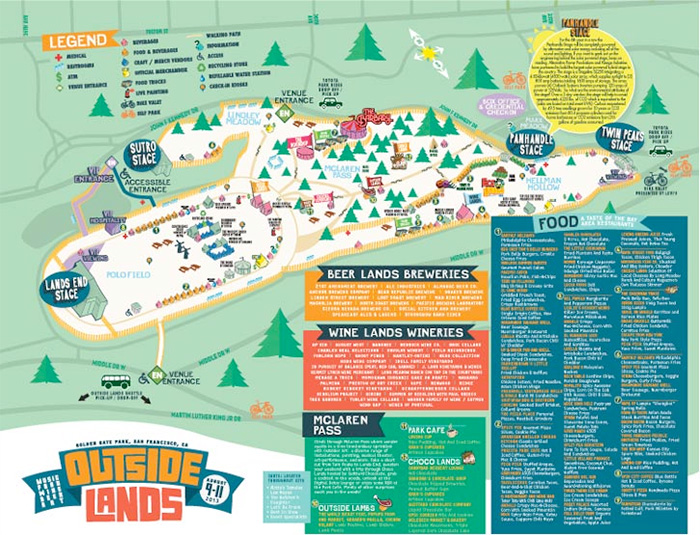 NO TICKET? NO PROBLEM.
You can still listen in to some of the performances live on the Outside Lands channel in the free TuneIn app. Don't expect to hear the major headliners, but some of the smaller bands on the side stages will be streamed.
You can also watch two channels of live video streaming here.
Still wish you had tickets? Clement Street's Seedstore Clothing is giving away a pair of 3 day passes to Outside Lands. The deadline to enter is this Wednesday at 7pm. Seedstore and their Clement Street neighbor Park Life will have a booth together at the festival, representin' our 'hood 🙂
TRAFFIC CLOSURES
During the festival, the venues and roads around them are closed to the general public and all car traffic thanks to cyclone fencing which has already started going up. If you want to get through or around the park this weekend, plan on using 19th Avenue, Stanyan, or the Great Highway.
Here's a map of the entrances to the park that will be closed to car traffic during the festival:

Marx Meadow will reopen to the public on Monday, Aug 12 at 8am; Lindley Meadow will open back up to the public on Tuesday, Aug 13 at 8pm; Hellman Hollow will open to the public on Wednesday, Aug 14 at 8am; the Polo Fields will reopen to the public Thursday, Aug 17 at 8pm.
PARKING & TRANSPORTATION
There is no official car parking for the Outside Lands Festival, so expect parking to be really tight in the outer Richmond this weekend. Concertgoers will also be arriving by festival shuttle, by foot, MUNI, taxi, or bike. The festival offers free valet bike parking beginning at 10am every day (if you drop off between 10am and 8pm, you get a free bike wash!).
Again this year, schools in the neighborhood will open up their lots and raise money by charging for parking. Below is the list of school lots that will be open:
1) Argonne Elementary – 680 18th Avenue @ Cabrillo Street
Hours: Friday – 4pm-11pm, Saturday & Sunday 10am-11pm
$30
2) Lafayette Elementary – 4545 Anza Street @ 36th Avenue
Hours: 10am-11pm, all 3 Days
$40
3) Presidio Middle School – 450 30th Avenue @ Geary Blvd.
Hours: 10:30am-10:30pm, all 3 Days
$25
4) Washington High School- 600 32nd Avenue @ Anza Street
Hours: Friday – 5pm-11pm, Saturday & Sunday – 11am-11pm
$30
5) Jefferson Elementary – 1725 Irving Street @ 19th Avenue (SUNSET DISTRICT)
Hours: Friday & Saturday – 10am-10:30pm, Sunday 10am-10:15pm
$25
COMPLAINTS? QUESTIONS? BLOCKED DRIVEWAY?
The festival has set up a community hotline again this year to take calls from neighbors – 415-750-3842. It is open from 10am until 11pm on all three days.
In addition to hotline staff, the city will add 2 dedicated tow trucks and 1 Parking Control Officer on each side of the Park to quickly respond to any blocked driveways or any other parking issues related to the Festival. You can also call SFMTA Parking Enforcement at 553-1237 if you need to have a car towed.
Want to really get your point across about your driveway? Stop by McLaren Lodge at 501 Stanyan Street through Friday afternoon to pick up a printed signs alerting attendees to not block your driveway.
HELPFUL PAGES ON THE OUTSIDE LANDS WEBSITE
Information for festival neighbors
Transportation options for getting to Golden Gate Park
Festival Schedule
Festival Map (PDF)
We hope everyone has a safe and fun time this weekend!
Sarah B.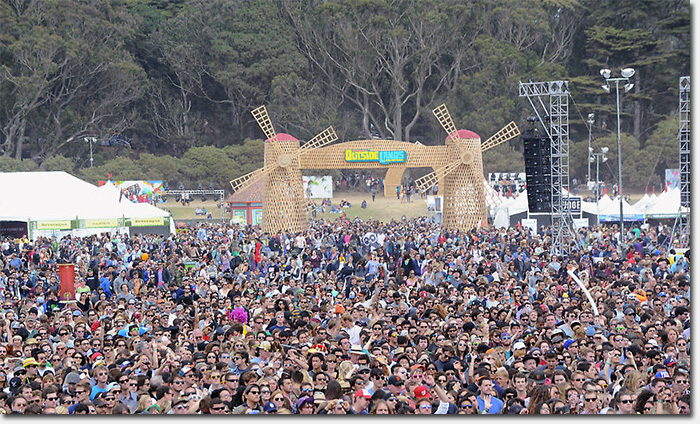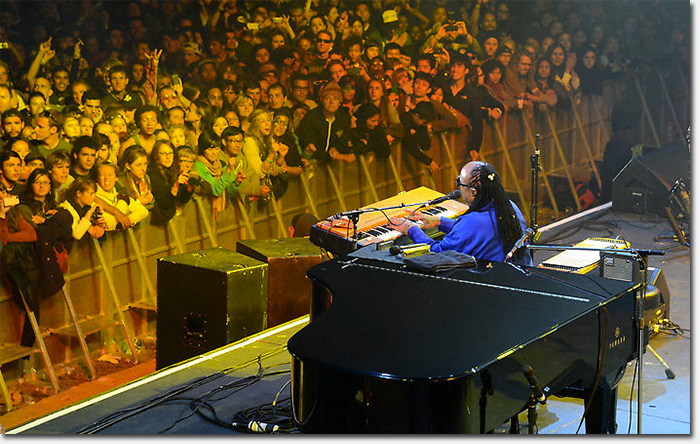 Stevie Wonder performing at Outside Lands 2012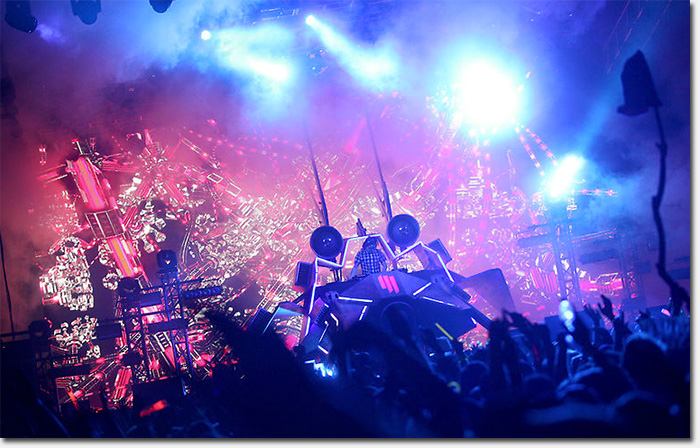 Skrillex performing at Outside Lands 2012