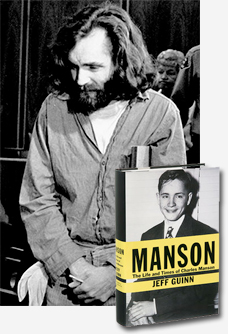 Charles Manson is one of the most bizarre and notorious murderers of the 20th century, convicted of conspiracy to commit the murders of Sharon Tate and Leno and Rosemary LaBianca in 1969. He's serving a life sentence in Corcoran State Prison and to this day, still makes the news on occasion when his parole hearings come up.
On Friday, August 16th at 7pm, author Jeff Guinn will be at Green Apple Books to talk about his new biography, "Manson: The Life and Times of Charles Manson". His book is being called "the most authoritative account ever written of how an ordinary juvenile delinquent named Charles Manson became the notorious murderer whose crimes still shock and horrify us today."
For his book, which details Manson's development from childhood and through the murder trial, Guinn talked to Manson's sister and first cousin, as well as Manson "Family" members Patricia Krenwinkel and Leslie Van Houten, who are also serving life sentences for their parts in the murders.
A recent New York Times book review was positive, saying that despite Manson's crime happening 40 years ago, "Mr. Guinn is fascinating in his use of hindsight, and it allows him a more probing view of his subject than earlier biographers had."
The free event takes place at Green Apple Books (506 Clement) on Friday, August 16th at 7pm.
Sarah B.