Saturday is Argonne Community Garden Day, celebrating the community garden that resides on 16th Avenue between Cabrillo and Fulton.
The Argonne Community Garden was started in 1975 when the San Francisco Unified School District issued a permit to use vacant land surrounding the Argonne Children's Center for a garden.
Today it is the only community garden in the Richmond District where as many as fifty families maintain plots to grow flowers, vegetables and plants for the community.
Saturday's celebration runs from 11am until 2pm and features live music, orchard & herb garden tours, delicious culinary treats and "Garden Guidance" discussions for those of you with a green thumb.
Last year, Supervisor Eric Mar stopped by the celebration to present a proclamation honoring the Argonne Community Garden as a national model for community gardens, and to Mary Ann Crandell, who founded the garden in 1975. Supervisor Mar will be there for this year's celebration as well.
For those of you interested in a plot in the Argonne Community Garden, don't hold your breath! The waiting list is 1 to 1.5 years at the moment. But you can add your name to the list by filling out this form on the Garden's website.
Members with plots pay annual dues of $35, which includes access to the garden shed and garden tools, wheelbarrows and supplies, the geodesic dome greenhouse, garden reference books and planting info, orchard care guide, seed library, picnic tables, garden benches, organic compost/soil, organic mulch and green bins.
Sarah B.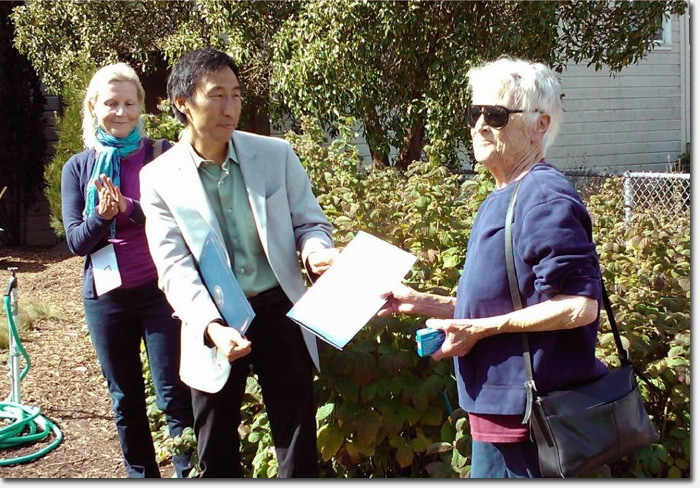 Supervisor Eric Mar presents the city proclamation to garden founder, Mary Ann Crandell. Photo by @sfdpw