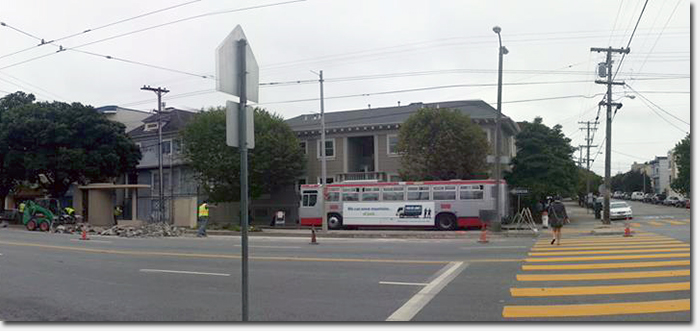 Photo by Roz A.
Reader Roz A. sent us the above photo today of work being done on the traffic island along California Street between 6th and 7th Avenues.
The island separates traffic between Cornwall and California Streets. Cornwall runs parallel to California from 7th Avenue up to Arguello Boulevard.
While she was there taking the photo, Roz witnessed an accident. She says the intersection is a difficult one and staff at Ashley's Cafe on the northeast corner see about 2 accidents per week.
"It seems pretty negligent to not have some sort of stop or traffic calming. The fact that the stop sign is at 7th & Cornwall instead of at the island makes it confusing for drivers, I think. They have a tiny ped xing sign at the island on Cornwall & California, but i think it's too low for drivers to see it," Roz wrote in an email to us.
We're not sure if the new traffic island will be any different or when it will be completed. But be on the lookout for construction crews, and keep your eyes peeled at that intersection!
Sarah B.
1:47 pm | Posted under
Traffic
|
9 comments