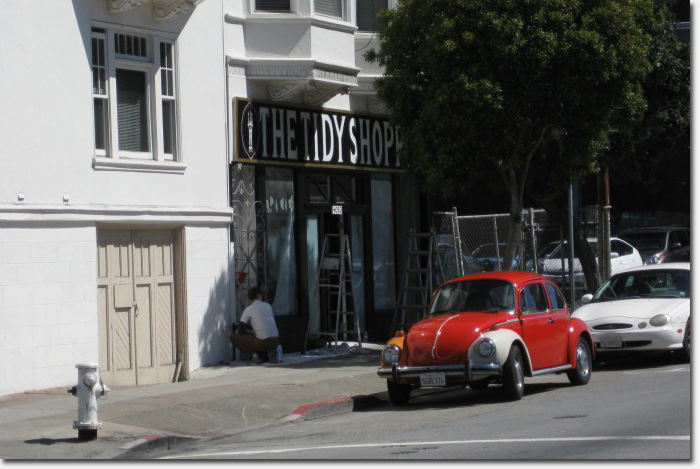 The Tidy Shoppe aesthetics salon that opened at 4050 Geary this week. Photo by Derek
The Fresh & Easy Neighborhood Market chain is being purchased by billionaire investor Ron Burkle. Burkle is buying 150 of the stores, and the remaining 50 will be shut down. It's been confirmed that the store on 32nd Avenue and Clement will be one of the 150 stores that remains open. Burkle has been mum on his plans for breathing new life into the 150 stores he's purchasing, but called Fresh & Easy "a tremendous foundation."
In case you haven't heard, the Balboa Theater reached their Kickstarter fundraising goal of $75,000. So now they can go digital and not dark. Congrats and good job Richmond District! They're still taking donations, which will go towards digitizing the second theater.
Park Life is curating an art show of local artist Ryan Beavers in the office of Supervisor Eric Mar. There's an opening reception this Friday, September 13 from 4:30pm-7:30pm at Mar's office, which is located in Room 284 of City Hall. The public is welcome to attend.
In other art news, neighborhood artist Jay Mercado of donut painting fame, was recently profiled in the Chronicle Sunday magazine. Mercado has a studio on California and 10th Avenue, and told the Chronicle, "It's nice to have a studio that's accessible to people. I don't want art to seem like it's something that is elite. It should be accessible to everyone. I want to make them feel at home with artwork and be able to talk about it. If the mailman comes in and buys a painting, like she did once, I think that's pretty cool."
There's a new yoga studio coming to the neighborhood. We heard from a reader that popular chain Yoga Tree will be opening on 6th Avenue between California and Lake Streets. We hear the outside is painted bright green. We haven't heard when they'll open for classes, but say your om's and keep your eyes out.
Another fire broke out last week at a homeless encampment that located on the back of Sutro Heights Park. The last fire on Sutro hill was in January 2013 and because of its hard-to-reach location, fire crews have to hand carry hoses up behind homes on Balboa and up a flight of forty stairs to battle flames there.
A public hearing is scheduled for tomorrow, September 11 to discuss Cinderella Bakery's (436 Balboa) proposed parklet. We haven't seen any renderings of it yet, but if you want to attend, the meeting is at 9am at City Hall, Room 400.
A new aesthetics salon called The Tidy Shoppe opened this week at 4050 Geary near 5th Avenue. Service categories include bikini waxing, brows, tinting, face, threading, body and lashes. Online appointment booking is available through their website.
Have you seen the Snowy Plover? Join a free guided walk on Ocean Beach this Sunday with Brent Plater of the Wild Equity Institute to search for the Western Snowy Plover. This small shorebird is highly threatened by human activities and habitat degradation. Join the walk to see this adorable species in its native habitat and learn ways that you can help. The walk is from 10am – 12am and RSVP online is required.
The Chronicle recently wrote about Glenn Gable, a one-man anti-graffiti crusader in the Richmond District, and why we're not likely to see tags removed from neighborhood mailboxes anytime soon.
The complete lineup was recently confirmed for the free Hardly Strictly Bluegrass Music Festival, taking place in Golden Gate Park on October 4-6, 2013. Highlights include Chris Isaak, Los Lobos, Bonnie Raitt, Emmylou Harris Gogol Bordello, Nick Lowe, Boz Scaggs, and dozens more.