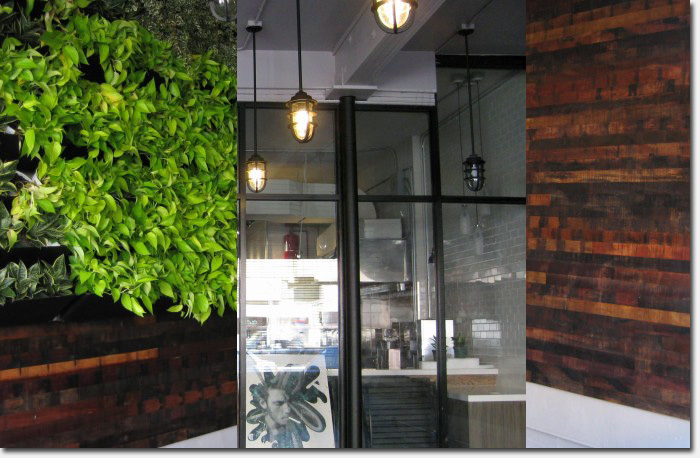 Some of the new finishes going in at the former Java House on Clement near 5th Avenue. Photos by Derek
There's lots of business activity happening in the neighborhood! Thanks to everyone for sending in your tips.
We hear that Three Bees Nursery (1921 Clement) has finally re-opened as Clement Nursery after a closure and remodel. You can find them on Facebook, where they mention "the new nursery yard is teeming with interesting new flowers, grasses, vines, shrubs and trees", "the dairy barn is restored and introduces garden antiquities, soaps, candles, jewelery, art and more", and "the 1904 cottage at the rear of the nursery has been uncovered, restored, and fitted with a new arbor to finally give a home to our 40 year old wisteria".
LOLA Clothing opened in the former April in Paris space at 55 Clement Street. We peeked in through the window on Sunday and the clothes are lovely – high end, custom designs from beautiful fabrics. Owner and designer Lola grew up sewing with her mother and says on her website that "fashion runs in my blood".
Construction is underway at the former Java House location on Clement near 5th Avenue (they moved to a smaller space at 2nd Ave and Anza). What was once a dilapidated, slightly scary coffee shop is getting new wood paneled walls, subway tile and a big cleaning. We still don't know what it's going to be, but definitely something cleaner and friendlier we hope.
The former Haig's Delicatessen on Clement Street near 8th Avenue is still papered over but there's a liquor license application notice posted in the window for "Locals Cafe". We can't find anything about them online, so their concept, menu and opening date are still a mystery…
Sarah B.
10:59 am | Posted under
Business
,
Food
|
32 comments