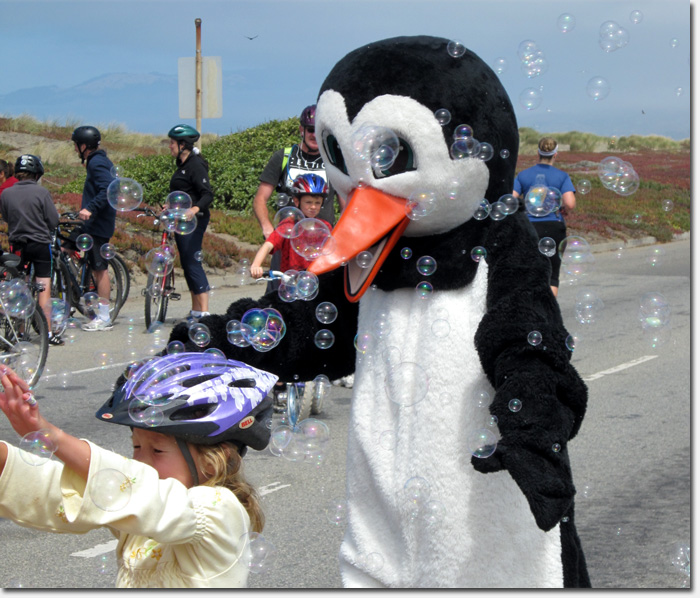 This Sunday is like prom night for Clement Street with two big events taking place – Sunday Streets and a one-time-only expanded Farmer's Market.
Sunday Streets is a city-wide program that moves from neighborhood to neighborhood, closing off streets to traffic to allow residents to walk, ride and generally frolic along the route. To date, the closest one to our neighborhood has been along the Great Highway.
This week's Sunday Streets will include the closure of nearly two miles of the Richmond District, running from Fulton down Arguello to Clement Street, and from the first block of Clement Street all the way out to Funston Avenue.
Along the Sunday Streets route, you'll find merchants, live music and neighborhood organizations offering fun activities. The Clement Street Merchants are hosting a Halloween costume parade (meet at The Mysterious Rack, 12 Clement Street at 2pm), and the Richmond District YMCA will be out all day offering parachute games and an obstacle course, and will also host 10 minute Zumba classes between 12 to 2pm.
Sports Basement will be setting up on Arguello to do free minor bike repairs, and if you don't have a bike, Parkwide will be at Arguello and McAllister offering free bike rentals for one hour. Also be on the lookout for Balboa Street's Purusha Yoga, bike riding demos at SanFranCyclo, and salsa lessons from Neck of the Woods.
Pets are welcome along the Sunday Streets route but not in the Clement Street Farmer's Market (Clement Street from Arguello to 5th Avenue).
Check the Sunday Streets schedule for the full list of activities & their locations.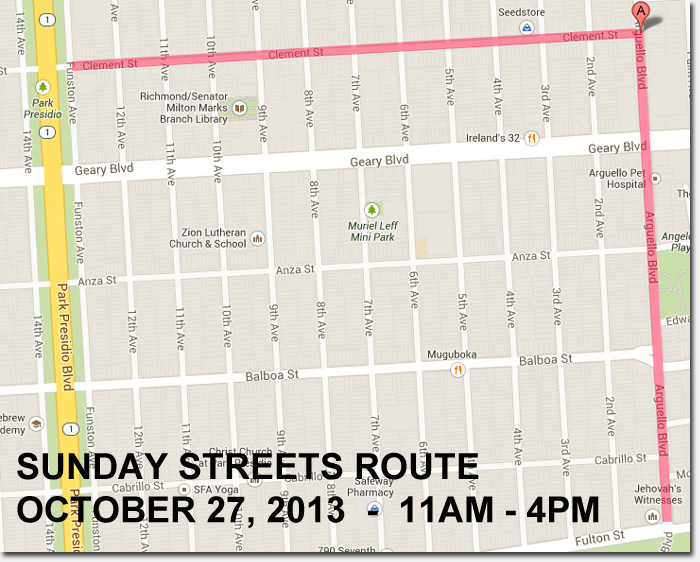 TWICE THE LOVE FOR THE CLEMENT STREET FARMER"S MARKET
Accompanying the special Sunday Streets will be an expanded Clement Street Farmer's Market, which will run from Arguello all the way to 5th Avenue from 9am until 2pm. So bring extra reusable bags because there will be a lot more vendors to shop, which means more great produce, organic goodness, baked treats and more.
IMPORTANT STREET CLOSURE & CAR TOWING INFORMATION
The Sunday Streets route will be closed to traffic from 11am until 4pm but also to any parking along the route. Cars that are parked along the route (both sides of the street) will be towed if not moved prior to 7am on Sunday morning. Tow areas include:
Clement Street from Arguello Boulevard to Funston Avenue
Arguello Boulevard from Fulton Street to Clement Street
3rd Avenue (first three spaces north and south of Clement on the east side)
If you have questions about the event or need to arrange vehicle access during the event times, contact sundaystreets@liveablecity.org or (415) 344-0489 x2.
$5 PARKING AT ROOSEVELT MIDDLE SCHOOL
If you have to drive to Sunday Streets (or want to invite friends from other neighborhoods to come visit!), Roosevelt Middle School will provide parking for $5 per car. They will have their schoolyard available for parking from 8:30am – 3:30pm; enter on Palm Avenue between Euclid and Geary. Note: They open their lot every Sunday for parking during the Farmer's Market.
Enjoy your streets this Sunday!
Sarah B.