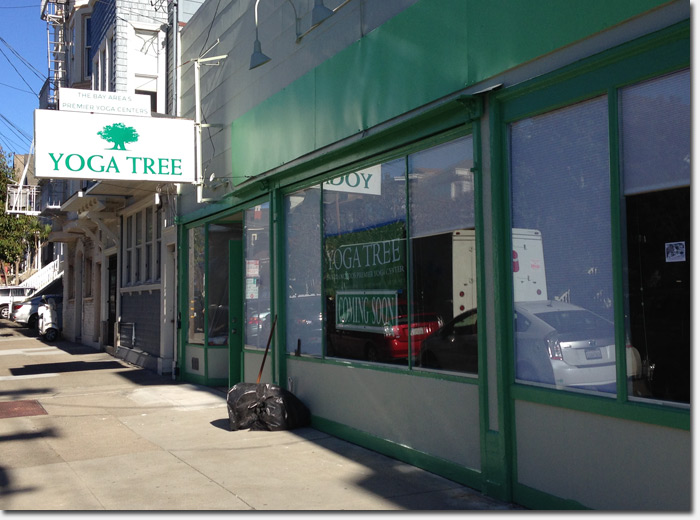 On Friday, Yoga Tree's ninth studio will open at 182 6th Avenue, just off California Street.
The studio will offer over 25 classes per week of Vinyasa, Hatha, Pre and Postnatal yoga starting on Friday, December 27th.
The first weekend of classes is free to all students, December 27-29. We haven't been able to find a class schedule online yet, but keep an eye on the website for more information.
The space was formerly home to Brighton Beach Antiques but has been vacant for many years. The interior has been remodeled and features a small reception area and a single workout room, which looks like it will accommodate about 20 people per class.
Yoga Tree offers a variety of rates and packages, ranging from an introductory offer of $20 for 3 classes, 10 and 20 class packs, up to a monthly pass (31 classes max) for $190. Classes can be taken at any of their 9 locations in the Bay Area. You can also just drop-in for a class; rates range from $12 to $18.
Classes can be booked online in advance.
Welcome to the neighborhood, Yoga Tree!
Sarah B.
UPDATE: Yoga Tree confirmed that it is only the first weekend of classes that will be free, December 27-29.