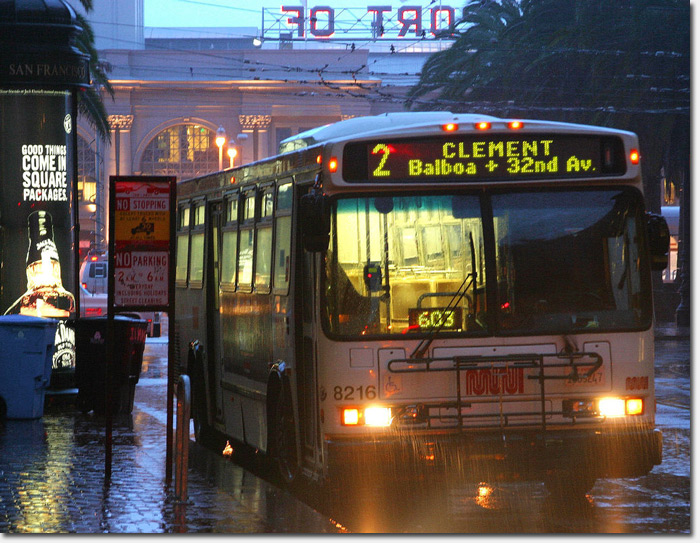 Photo by Thomas Hawk
SFMTA is looking for feedback from the community on two transportation issues facing the city – changes in MUNI service lines including the 2, 28, 28L, and 38L lines, and which MUNI stops residents think would be best for the Silicon Valley commuter shuttles to use.
PROPOSED CHANGES TO MUNI LINES; MEETING FEB. 12
On Wednesday, February 12 from 6-8pm, the SFMTA will hold a public meeting at the Richmond District police station (461 6th Avenue) about proposed changes to the 2, 28, 28L, and 38L lines.
Muni is considering proposed service and route changes as part of the Transit Effectiveness Project (TEP):
The proposed changes will modernize Muni and make it more efficient, reliable, safe and comfortable for its existing 700,000 daily passengers. Developed over several years of data collection, intensive planning and public outreach efforts, the TEP will restructure transit service on certain lines to improve efficiency and connectivity and implement transit priority changes on the most heavily used lines to give buses and trains more priority on our City streets.
The addition of a 5L Fulton line last Fall was part of the TEP. The SFMTA is proposing the following additional changes which will be discussed at Wednesday's meeting:
2 Clement: Supplemental trolley coach service between downtown and Presidio Avenue to boost service lost by shutdown of 3 Jackson route. 2 Clement Service Variant proposes an alternative alignment that would use existing overhead wires for trolley coach service on the entire Sutter Street corridor. Instead of operating on Clement Street from Arguello Boulevard to Park Presidio Boulevard, the alignment would continue on California Street to Eighth Avenue south to Clement Street to Sixth Avenue. This service variant would include a terminal loop at Sansome Street in the Downtown area. See project document
38L Geary: Expand limited stop service to Sundays. Coordinate with Geary Bus Rapid Transit (BRT) Study currently underway, which aims to achieve significant travel time and reliability improvements. See project document

Changes are also being proposed to the 28 and 28L 19th Avenue routes, which run through the neighborhood on Park Presidio.
WHICH MUNI STOPS SHOULD THE COMMUTER SHUTTLES USE?
Late last month, the SFMTA Board approved an 18-month pilot program that will test sharing a limited number of Muni stops with commuter shuttles, many of which carry employees between the city and tech companies in the South Bay. Shuttles that pay for a permit and commit to complying with permit terms (following operating guidelines, sharing data, paying permit fees, etc.) will be authorized to use the shared stops.
The pilot program is set to start in July 2014 and the SFMTA is hosting an interactive map where residents can suggest locations for shared stops and provide information on conditions that they think should be considered in developing the network.
Click on an existing pointer in the map to add your feedback about a location, or create your own marker with feedback at additional stops.
The deadline to provide information via the interactive map is February 23. From that collected data, SFMTA engineers and planners will develop a proposed network as well as Muni operations and engineering needs.
Sarah B.