A couple of weeks ago, the Food Network aired an episode of their show Mystery Diners entitled "Pardon My French", featuring Clement Street's Chapeau!, a popular French bistro.
Mystery Diners is a reality show in which a crew goes undercover to find out what issues a restaurant may be having with its kitchen, wait staff or other personnel.
Chapeau! owner Philippe Gardelle, who opened the restaurant in 1996, is known for not only his excellent Southern French cuisine, but also for his warm, effusive manner with his patrons. So we were intrigued when the episode teaser said he was concerned that some of his wait staff were being rude with customers. We have only ever heard stellar reviews from readers who have dined there.
Enter Mystery Diners, who after consulting with Philippe, wired the restaurant with multiple cameras and mics, and focused their attention on a few waiters that Philippe thought might be the issue. The vacant space next door to them on Clement was used as the control center.
The episode was really entertaining because not only did it confirm Philippe's suspicion, but the secret cameras also uncovered a host of other issues going on in the restaurant.
It turns out that Philippe's own teenage son, Andrew, who is a busboy at the restaurant, was pulling the teenage hostess away from her station so they could lock lips in the alley. He also liked to take smoke breaks and talk down to the wait staff.
In another alarming scene, waiter Michael brazenly steals a $30 tip from another waiter's table.
Another waiter proved to be hidden camera gold and the source of customer complaints. Renaud, a French waiter, starts out his shift by shirking off his training duties for a new hire, who is part of the Mystery Diners crew. Strike one!
But Renaud really loses it when one of the mystery diners insists on ordering white wine with her filet mignon.
His reaction? To tell her that it will be horrible and that he is bringing her red wine regardless. Owner Philippe watches the uncomfortable interaction unfold on screens in the control room, all the while swearing in French and pulling his hair out. Strike two!
Renaud then proceeds to the back alley to smoke, pace and vent, mumbling under his breath at the customer's ridiculous order and how white wine would ruin their filet mignon. Meanwhile the diners have already walked out of the restaurant, abandoning their order. Oh mon dieu – strike three!
The end result? The sticky fingered waiter was fired (go Philippe!), son Andrew got a talking to and promised to work harder, and Renaud, after admitting he was stressed out from trying to quit smoking, was given a second chance.
You can watch the full episode for free via Comcast on Demand, or via Youtube ($1.99) or on iTunes ($2.99).
Bon apetit and thanks to reader Chet for the tip!
Sarah B.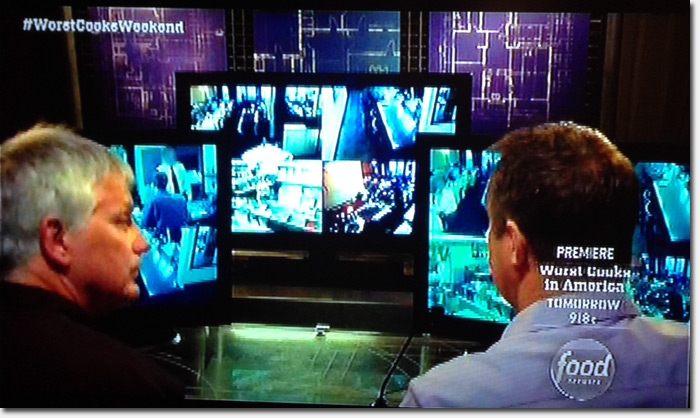 Chapeau! owner Philippe Gardelle (L) watches the drama unfold from the control room