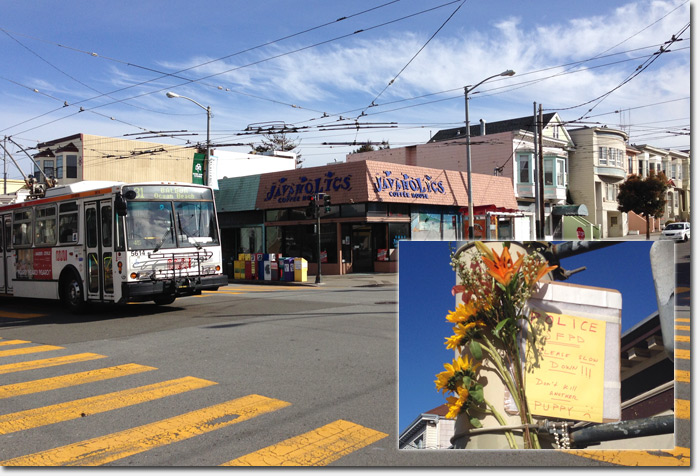 The 6th 7 Balboa and intersection where the dog was run over. Inset: Photo of the makeshift
memorial placed by a neighbor
Over the weekend, we received an email from a reader about a dog that was killed by a car on the corner of 6th Avenue and Balboa around 1pm on Saturday, February 15.
In the email, the reader alleged that the dog was struck by a San Francisco Police Department (SFPD) vehicle, claiming the incident "took place in plain view of a large number of people".
The Richmond District police station is located just a couple of blocks away from the intersection at 461 6th Avenue near Geary.
On Sunday, the same reader sent us a photo of a mini memorial that was put up on the northeast corner of the intersection, featuring flowers and a handwritten sign that said "Police SFPD Please Slow Down!!! Don't Kill Another Puppy". The reader did not confirm if they were the memorial's creator.
When we visited the intersection on Tuesday, only the flowers remained on the pole.
We contacted Officer Albie Esparza, Public Information Officer for the SFPD about the incident. He confirmed that a person did come to the Richmond District Police Station on Saturday, stating they allegedly saw a police car run over a Chihuahua dog.
Esparza said that per SFPD protocol, a collision report was filed and a supervisory investigation is underway to look into the incident and see if there was an officer involved.
So far, no officers have claimed to be involved in the incident, and no witnesses, including the original reporter of the incident, have identified the vehicle or the driver of the vehicle.
The station has not heard from any other witnesses nor from the dog's owner. So it's still unclear if the dog was run down by a SFPD vehicle, or another car altogether.
Esparza urges anyone with information about the incident to contact Richmond Police Station at 415-666-8000.
Sarah B.