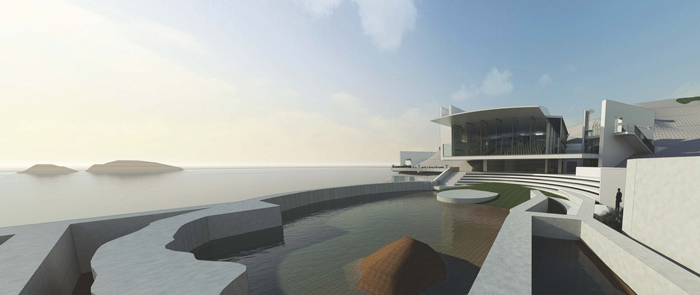 Sutro Baths reimagined as a Center for the Human Spirit by Quan Nyen Tran
In 2012, Quan Nyen Tran, a student at the Academy of Art's Graduate School of Architecture, submitted an entry to the American Institute of Architects Center for Emerging Professionals competition. In it, he re-imagined the ruins of Sutro Baths as a transformational retreat center he calls the "Center for the Human Spirit".
What's interesting about Tran's design is that rather than rebuild on top of the ruins and cover them up, the center wraps around the existing pools, and uses the varied cliffs to tucks in structures and living spaces.
Tran refers to Sutro Baths as "an evocative ruin", writing, "The evocativeness comes from a sublime coexistence of cliff, ruin and ocean – each a potential site for discovery of the human self and for an evocative architecture to house this discovery.
The center consists of three main spaces – a exhibition space, a meditation space, and a retreat – all with the goal of encouraging its visitors to treat themselves, others and nature with compassion.
The exhibition space features an ampitheater with a connecting tunnel that leads down into a bathhouse that is tucked into the side of the cliff. The meditation center is "cantilevered from an existing ledge, with steps leading down into the ocean, and takes in the view of the infinite horizon". And finally, the retreat area is nested in the heart of the ruins, with minimal living quarters and a transparent ceiling open to the sky.
The Center for the Human Spirit was also Tran's Master's thesis.
"My project was ignited by a vision borrowed from Ayn Rand's Fountainhead and the quote: "Throughout the centuries there were men who took first steps down new roads armed with nothing but their own vision.""
And while Tran's re-imagining of our neighborhood relic wasn't a a finalist in the 2012 AIA CEP ompetition, we think he has a winning idea here.
Thanks to @sutrobaths for the tip.
Sarah B.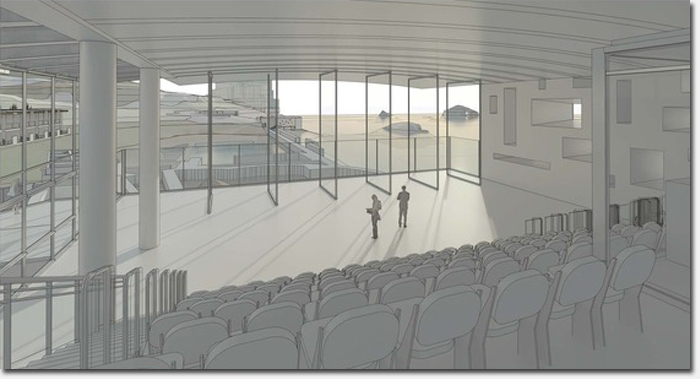 Looking out from the Exhibition area. By Quan Nyen Tran


At left, a rendering of the Retreat for the Potential Self. To the right, the Sanctuary for the Transcendental.
By Quan Nyen Tran