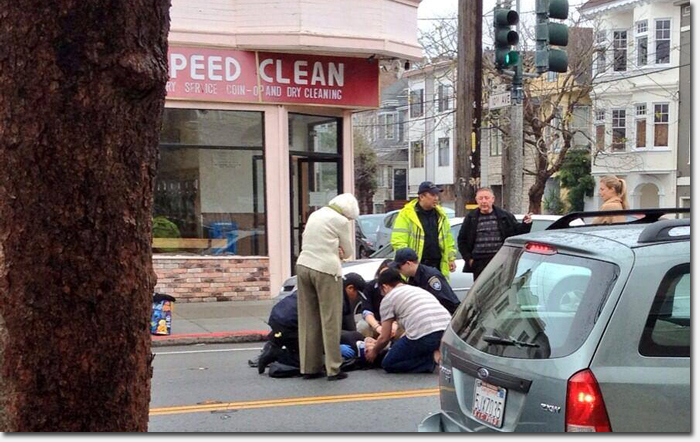 Photo by @jdonnellydc
On Thursday, February 6, an elderly woman named Carmen Silva was hit by a driver at the intersection of 10th Avenue and California Streets.
On Sunday night, Carmen's son Emiliano Lee found the above photo that we posted on Facebook and left a comment with an update on his mother's condition, and explained what happened that day:
"She had just gotten off the 1 California (we live on 11th) and was crossing the street, in the crosswalk, with the green light. A woman driving a prius turned and drove right into her. Happened so fast my mom didn't see her until she was being hit… She hit the hood and windshield then was thrown into the street."
"We are all thankful she's alive as it could have been much worse," Emiliano added.
Carmen herself jumped into the Facebook thread to talk about her accident:
"I've lived on 11th & Geary 24 years so am a vigilant pedestrian, have been nearly hit too many times. I always look 4 ways and keep looking as I cross. I do not ever use my cell phone when walking. I do not jay walk. And however clichéd, I did not see the car until it was about to hit me. My head, neck, ribs and a knee were damaged. Slow but steady recovery, and I do know it might have been so much worse. Thank you to the many helpful and comforting passers-by and EMTs and SF police."
We're glad to hear that Carmen is doing well and on her way to recovery. Thank you to the family for the updates!
Sarah B.