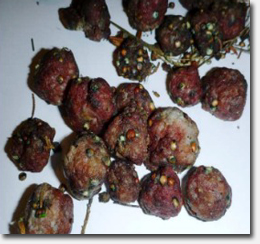 You may have already heard about the 21 poisonous meatballs that were found in the bushes and shrubs of the Twin Peaks neighborhood over the weekend.
The intent of the meatballs, which were laced with strychnine, was to harms animals and pets who ingested them. Hundreds of the meatballs first appeared in July 2013, and killed a small dachshund.
This afternoon, SFAppeal reported that the police are also testing suspicious meatballs found near 855 La Playa between Fulton and Cabrillo around 5:45pm on Sunday afternoon.
Police are warning pet owners to be especially alert when out walking their dogs, and recommending that cats not be allowed outdoors. They are treating the meatballs found near Twin Peaks and the ones found in the Richmond District as one case.
The last time this occurred in the Richmond District was in July 2011, when someone left rat poison out in Sutro Heights Park, killing a hawk and causing one woman's dog to foam at the mouth after ingesting it.
San Francisco police are asking the public for assistance in the case. Anyone with information is encouraged to call the SFPD's anonymous tip line at (415) 575-4444.
Sarah B.