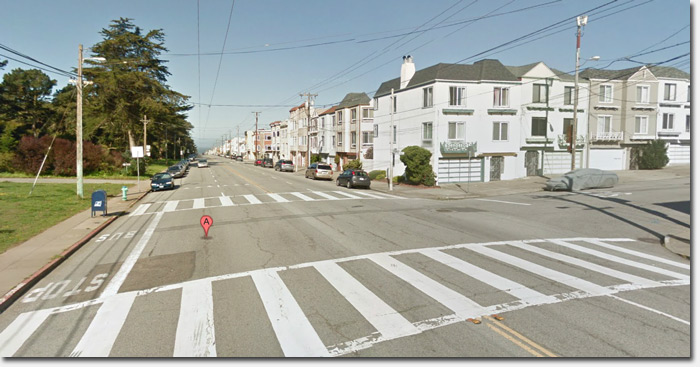 The intersection of Fulton and 37th Avenue, looking west.
Around 5:15om this afternoon, a woman and a 5-year old boy were struck while crossing at the intersection of Fulton Street and 37th Avenue.
The intersection is right in front of the Golden Gate Park Senior Center and features wide striped crosswalks but no stop signs.
Both the woman, who was a babysitter, and child were transported to San Francisco General Hospital for treatment for their injuries. The boy suffered a contusion to his head, and the babysitter suffered a leg injury, according to San Francisco police Officer Gordon Shyy.
It's unknown whether the driver was driving east or westbound on Fulton. The driver did remain at the scene and was cited for failure to yield to a pedestrian in a crosswalk.
This is one of many pedestrian versus car incidents in San Francisco this year, and the second in a little over a month here in the Richmond District. On February 6, an elderly woman was hit and injured while crossing the intersection of California Street and 10th Avenue.
Interesting fact: A 1995 study in Canada found that traffic accidents are 8.6% more common on the first Monday of daylight saving time. "Though it began on Sunday, researchers have found the most acute effects occur on the first Monday after clocks spring forward. That's when about one-fifth of the world's population is forced to get up and go to school or work one hour earlier than their bodies are used to."
Thanks to cub reporter David H. for the tip.
NOTE: Earlier reports indicated that the boy was 4 years old and related to the woman that was hit. But authorities clarified that the boy is 5 years old and the woman with him was his babysitter.
Sarah B.
[via SFAppeal]