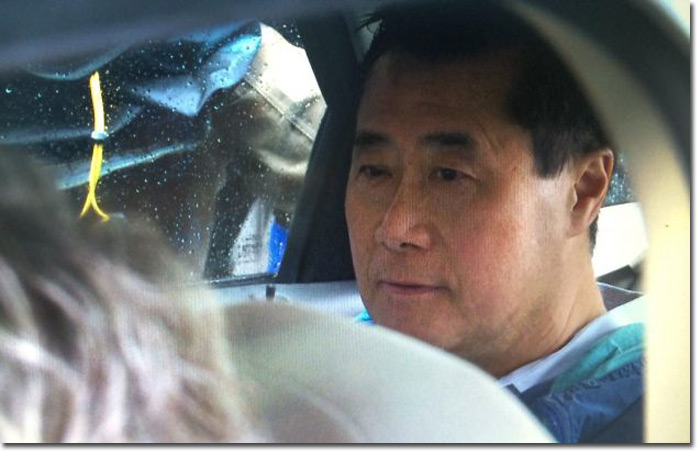 Leland Yee arriving at Phillip Burton Federal Building, Wednesday, March 26, 2014. Photo: KPIX
State Senator Leland Yee was arrested this morning by the FBI on public corruption charges at his Sunset District home and taken to the federal building in San Francisco, where he will be arraigned at 1:30pm.
Yee, a Democrat, represents Senate District 8, which includes the western half of San Francisco and most of San Mateo County.
The FBI also raided his office in Sacramento and the Ghee Kung Tong Supreme Lodge of the Chinese Freemasons in San Francisco's Chinatown, the San Francisco Chronicle reports.
The investigation is also targeting Raymond "Shrimp Boy" Chow, a notorious former San Francisco gangster, who was arrested today.
Yee was led away from his home in handcuffs this morning. Other locations being searched include a building on the 1700 block of Hyde Street, a home on the 600 block of 42nd Avenue in San Mateo, and Yee's office in Sacramento.
Yee, a former San Francisco school board member and supervisor and member of the state Assembly, is a candidate for California Secretary of State, one of the state's seven highest offices.
As a candidate, he has promised to "increase government transparency, support small businesses, reform campaign financing and protect the most vulnerable."
UPDATE 5:18pm: The charges against Yee include conspiracy to deal firearms without a license, conspiracy to illegally transport firearms, six counts of a scheme to defraud citizens on his services, and wire fraud. Lee was released on a $500,000 unsecured bond and will return to court Monday, March 31st to revisit the terms of his release. A total of 26 people were arrested on a variety of charges, including murder-for-hire, drug trafficking and gun running, according to the federal criminal complaint. Read the criminal complaint (PDF, 16MB)
Sarah B.
[via SFGate, Huffington Post, SFAppeal, CBS SF]
11:46 am | Posted under
Crime
|
14 comments