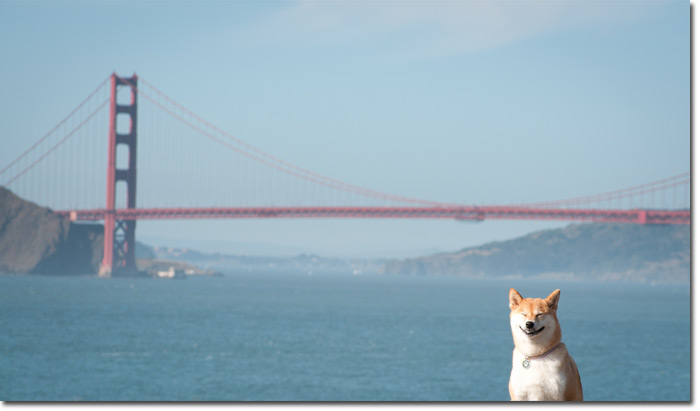 Even the dogs can't help smiling at Lands End. Photo by Jonathan Fleming
While you're trying to fathom the litany of charges in State Senator Yee's indictment, take a moment to check out these less threatening local links:
No mo' pho: Reader Chet informed us that Pho Garden (2109 Clement), home of the infamous (and nausea inducing) Pho challenge, has closed. A call to their business phone number ends in a disconnected message.
Looks like Clement Street's Barley Cafe has met the same fate. Eater SF reports that after only six months, Barley (343 Clement) has called it quits. The cafe has been locked up for the past couple of weeks and a phone call goes straight to voicemail.
Good news for fans of the Clement Street Farmer's Market – The market's life has been extended for another year until June 2015. The market will also add another block beginning April 6th, so it will run from Arguello Street to 4th Avenue every Sunday from 9am until 2pm.
Want to help your neighbors and community in a time of crisis? Enroll in a free NERT (SFFD Neighborhood Emergency Response Team) course on Wednesday June 11, 2014 from 6:30pm-8:30pm at the Richmond Branch Library. Learn skills to be prepared for emergencies big or small, and get to know your neighbors on your block to maximize resiliency after a disaster. Register online – it's free!
A skateboard park at Ocean Beach? Radical, dude. It could happen if the San Francisco Skateboarding Association's vision comes to live. They were behind the successful Balboa Skate Park and have set their sights on Ocean Beach. Rec & Park is into it. Might not be Playland but sounds like a fun idea! [CurbedSF]
Fredy's Deli near Ocean Beach has a new owner and a new lease on life. The Ocean Bulletin profiled new owners David "Kawika" Nottage and his wife, Joanne who are "trying to keep the best parts of what made Fredy's Ocean Beach Deli a neighborhood favorite, while introducing some additions such as gluten-free menu items and an expanded selection of wine."
FREE EVENTS THIS SATURDAY, MARCH 29
Got veggies? Master Gardener Jonathan Propp will be at the Richmond District Branch Library this Saturday from 2-3:30pm to lead a free course on how to grow vegetables in your SF backyard. His presentation will cover selection of climate-appropriate varieties, soil and bed preparation, propagation and planting techniques, and plant maintenance.
Walk among the flowers: Wildflowers have started to bloom all over our parks including Lands End. The Parks Conservancy leads free walks every Saturday from noon until 1pm through May 31, including a special Mother's Day walk on May 10. Info & registration here
This Saturday, Supervisor Eric Mar is sponsoring a Richmond District Housing Rights Town Hall from 2 to 4pm at the Richmond Recreation Center (251 18th Avenue). Learn about your rights and obligations as San Francisco tenants and landlords, hear from experts and get your questions answered.