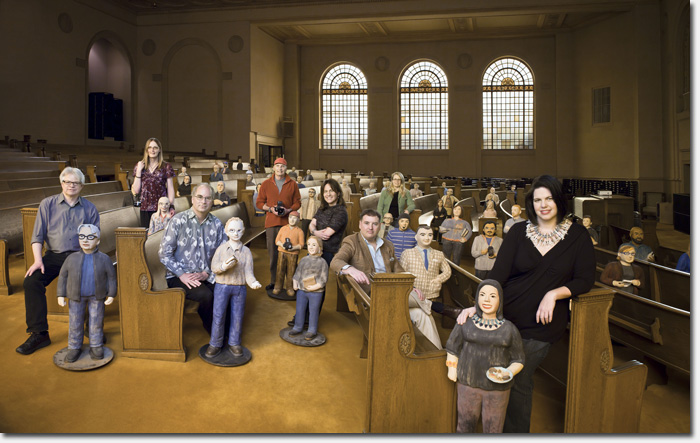 The archivist statues in the Internet Archive. On the far left is Rick Prelinger, with
Brewster Kahle to the right. Photo by Michael Grecco Productions
If you've ever been to an event in the large auditorium at the Internet Archive at Funston and Clement, you've likely seen the unique sculptures scattered among the old church pews. The sculptures are representations of archivists or staff members that work at the Internet Archive.
The idea came from the IA's founder, Brewster Kahle, who on a trip to China was impressed with the Terracotta Warriors depicting the armies of Qin Shi Huang, the first Emperor of China in Xian. When he returned to the US, he commissioned artist Nuala Creed to start making sculptures representing individuals who had dedicated at least three years of service to the Archive.
Recently, the 100th sculpture was completed and installed in the auditorium. Among the collection is founder Brewster Kahle as well as Rick Prelinger, the man behind the "Lost Landscapes of San Francisco" films.
Artist Creed says that even after creating 100 of the sculptures, it's still "a challenge to convey the individual":
"I love this commission, it allows me to do what I love, to create figures in clay. The Ceramic Archivists are hand-built, each figure is unique. I work from a photograph of the person, and a brief statement as to their interests. As I build the figure it is almost as though I am getting to know that person. Many of the figures are holding something, a coffee cup, book, cell phone, plate of cookies, knitting, a laptop etc. which personalizes them," Creed says on the project website.
In November 2013, the Internet Archive lost part of its building to an electrical fire which also badly damaged a neighboring apartment building and its restaurant tenant on the ground floor, Taishan Cafe. Demolition of the damaged office space has been completed and word on the street is that the Internet Archive does plan to rebuild. We have not heard if Taishan will reopen in the future.
Sarah B.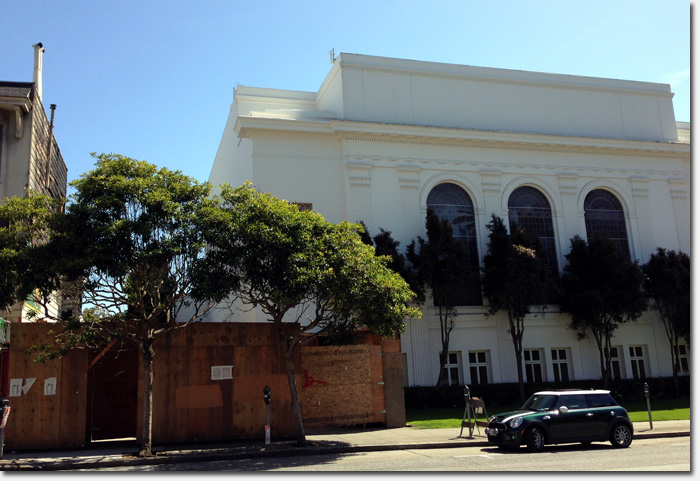 The burned portion of the Internet Archive building on Clement that will be rebuilt.