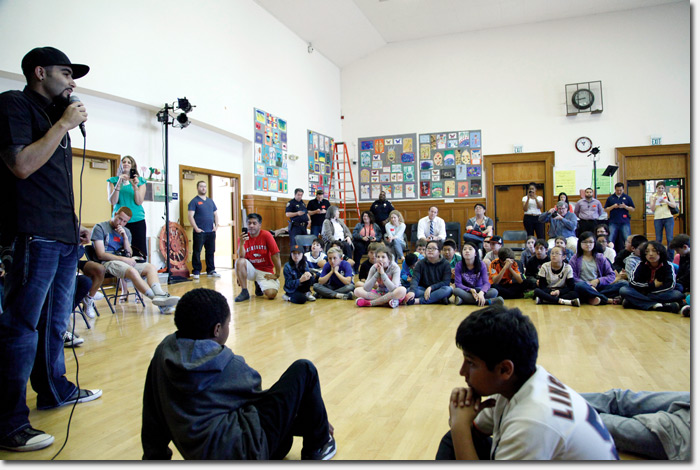 Sergio Romo speaks to students at Lafayette Elementary. Photo by Juan Pardo / SF Examiner
Here are some local updates to start your weekend. Have a good one!
Reminder: This Saturday the SF Botanical Garden in Golden Gate Park will host its 47th annual plant sale from 10am until 2pm, featuring over 20,000 plants. This year's theme is drought tolerance hundreds of beautiful natives, succulents, and plants perfect for SF's many micro-climates are for sale. The event also serves as a fundraiser for the garden.
If pampering is more up your alley, head to outer Balboa on Saturday for an open house at Elevation Pilates and Sweet Cheeks Skincare. Sweet Cheeks will be offering free Hand Treatments demoing all of the latest and greatest skincare technology, selling some skin care items at 50% off, and selling a Mother's Day Gift Certificate that include a free gift with purchase. Elevation Pilates will be offering free classes, special pricing on class packages, and hosting an art show. The open house runs from 11am until 3pm at 3425 Balboa Street.
The community garden at the Richmond District Neighborhood Center is going strong. Some students from Katherine Delmar Burke School paid a visit recently to plant some kale for the community.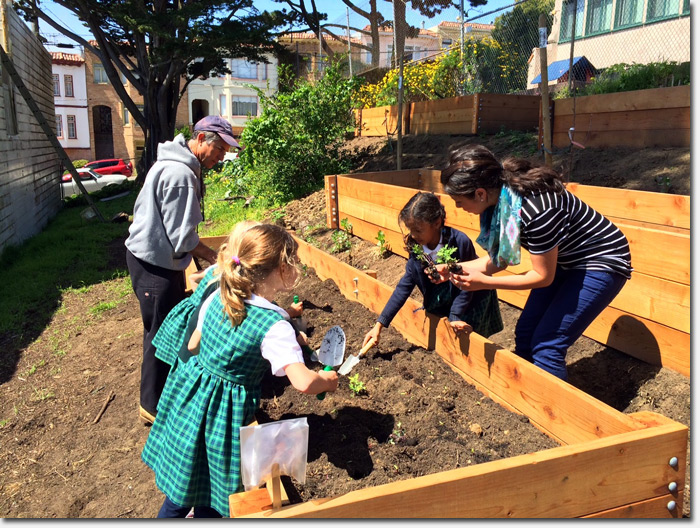 Burke's students plant kale in the community garden at the RDNC. Photo by Kinder Musings.
Giants pitcher Sergio Romo was at Lafayette School (4545 Anza) on Tuesday to talk to students about the importance of education. It was Romo's fourth visit for such an event, put on by Washington High School's Athletes in Math Succeed program, in which high school students and professional athletes cheer on students to succeed in school. "It's more personal to me," Romo said of visiting the school, where he high-fived kids and signed their baseball paraphernalia. "I can relate to this program." (SF Examiner)
The Chronicle reported this week that Aziza owner and cookbook author Mourad Lahlou is moving ahead with a second, downtown restaurant in the former Pacific Telephone Building (140 New Montgomery). He's looking to open the Moroccan-themed, 6,000 sq. ft. restaurant in late 2014/early 2015. No word yet on Aziza's future.
A writer at SF Weekly lamented over the forgotten era of the Tiki Bar when he journeyed out to Trad'r Sam's on Geary, one of the first in the city. After hearing Warren G. coming from the jukebox and listening to patrons order chilled vodka shots instead of Tiki-themed rum drinks, he concluded that Trad'r Sam's is "now just another bar".