If you've walked along California Street in the inner Richmond in the last few weeks, you may have noticed the poster below out of the corner of your eye. It *looks* like a lost pet poster but on closer inspection, it's more of a treatise about a lost heart…
The 10 point letter is addressed to Gwen from "S" (which we gleaned from the "S & G" in the red heart, lower right corner). From the sound of it, S met Gwen online, a romance developed, she dropped offline to care for her ill father, and S lost his s**t over it.
And then come the apologies. "I've shed many tears knowing how I've hurt you and broken your trust for me" (see #5). "I love you so much. Please don't let this erase everything we were building. I'm sorry I've let you down when you needed me most. I would take it all back" (see #9). And so on, and so on.
In addition to posting these flyers on nearly every utility pole along a 6 block span of California Street, "S" also flew to Oahu and put up fliers all over Haleiwa. He definitely gets an A for completeness and persistence. And a high Kinko's bill.
From his notes, "S" was worried that he had been "catfished", a term that refers to online profiles in which people lure another by pretending to be someone else. "I thought I had been lied to, and tricked by a "CATFISH" online" (see #4).
The poster also has some momentos from their online relationship including a Disneyland logo and a cartoon VW bus with "road trip" underneath it – maybe something they were planning to do together?
The top of the poster features two dogs, a chihuahua and a husky, with Gwen's screen name partially obscured above it.
We can only wonder if Gwen got the message, and these two star-crossed, separated-by-miles-of-ocean lovers ever reunited. You can't blame a guy for trying though.
Good luck, S & G.
Sarah B.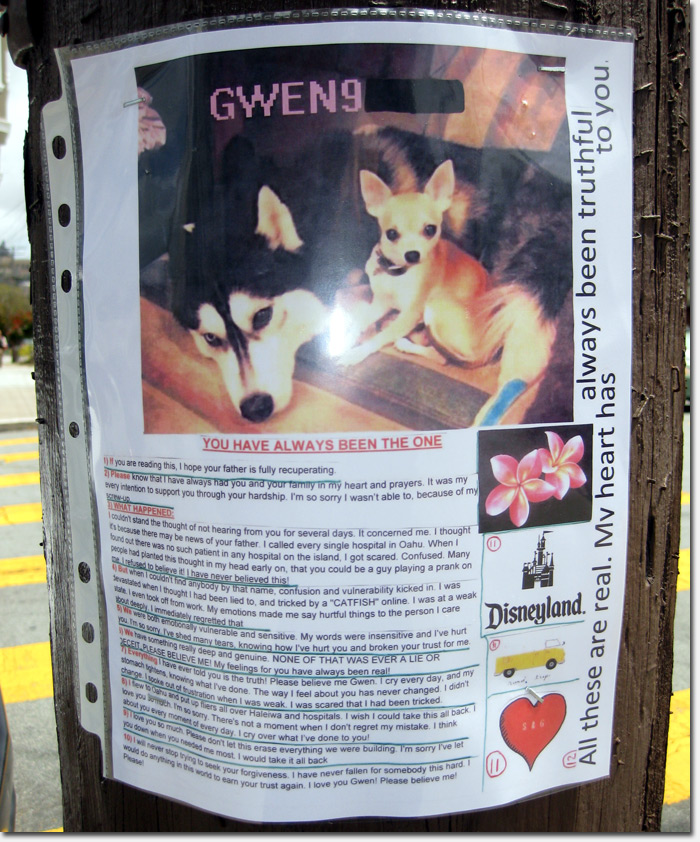 Photo by Derek. Click to enlarge.