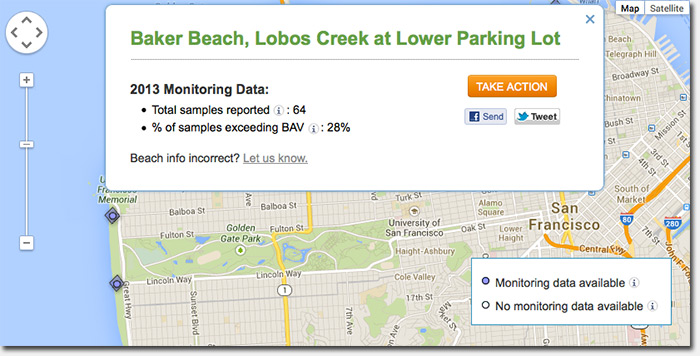 The Natural Resources Defense Council released their annual report this week, entitled "Testing the Waters 2014: A Guide To Water Quality At Vacation Beaches". In it, they detail water quality conditions at beaches in 30 states along the shores of the Atlantic and Pacific Oceans, the Gulf of Mexico, and the Great Lakes, using water samples taken in 2013.
We took a look at our nearby beaches – Baker Beach, China Beach, and Ocean Beach – to see how they ranked.
The key indicator that the report looks at is the Beach Action Value (BAV) safety threshold, and what percent of samples from a given beach exceed the threshold due to higher than acceptable levels of bacteria.
Ocean Beach offers the cleanest waters, with 0% of samples exceeding the BAV safety threshold. China Beach is just slightly behind with 2% of samples exceeding the BAV.
Baker Beach has the most alarming statistics, with numbers as high as 28% of samples exceeding the BAV threshold, specifically those taken from the Lobos Creek dumpout near the lower parking lot of Baker Beach. Two other spots at Baker Beach came in much lower at 3% and 7%.
According to the NRDC, "the largest known contributor to beach closings or health advisory days has historically been stormwater pollution. Untreated sewage spills and overflows are also frequently to blame."
Baker Beach is no stranger to low ratings. In 2011, Heal the Bay listed Baker on its "Beach Bummer" list, which ranked the most polluted shorelines in the state. Lobos Creek empties onto Baker Beach which apparently creates opportunity for bacteria to congregate. That portion of Baker Beach is on the list for an official cleanup effort, but research and recommendations won't be completed until 2019.
Year over year, our beaches fared about the same. The NRDC changed their methodology a bit but click here if you want to see a synopsis of their findings in 2013.
Sarah B.