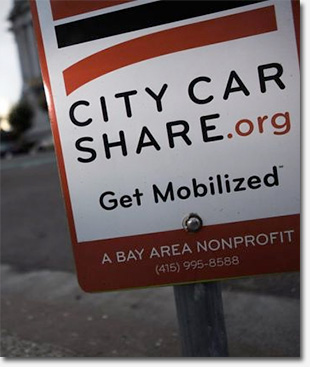 Parking is going to get even tougher for residents in the outer Richmond if the SFMTA gets approval tomorrow to convert 20 residential parking spaces into car share zones.
The Friday, July 11 the Sustainable Streets Division of the San Francisco Municipal Transportation Agency will hold a public hearing in which 10 different proposals will be considered to change street parking spaces into ones reserved for car share companies.
The detailed list of where these proposed changes is below, which includes spaces on 27th, 28th, 33rd, 34th, and 42nd Avenues, as well as Anza, Balboa and Cabrillo Streets. In total, it calls for 20 parking spaces to be changed to parking that is restricted to car share company vehicles only.
The 20 spaces being proposed in the outer Richmond District are just a small piece of the 900 total spaces that the SFMTA wants to convert across the city for a 2 year test program for car sharing.
Three car sharing companies – Zipcar, Bay Area nonprofit City CarShare and San Francisco's Getaround – will be the recipients of the spaces. According to the Chronicle, the SFMTA approved the program after a smaller two-year test, involving a dozen street spaces, was deemed a success.
According to the agreement with the car sharing companies, at least 30 percent of the spaces have to be in the outer two-thirds of the city, and the price charged to the companies for spaces becomes less expensive in neighborhoods distant from downtown, as a way to encourage them to spread their vehicle fleet around the city. The monthly fee ranges from $50 per space per month in the outer third of the city to $150 in closer-in neighborhoods to $225 in the downtown area. [SFGate]
Some residents will be less than thrilled with this development, given how hard it can be for Richmond District residents to park in their own neighborhood. Reader Aram G. wrote us and said "this is yet another assault on Long term residents of San Francisco and needs to be stopped!!"
Still others, who don't own cars, will find the ease of access to car sharing a welcome convenience.
"We appreciate that it's a pretty big leap of faith," Andy Thornley, project leader for the MTA told Pando this week. "And its important to remember that this is an experiment and not a forever thing, necessarily."
Tomorrow's SFMTA hearing takes place at City Hall (1 Dr. Carlton B. Goodlett Place) at 10am in Room 416 (Hearing Room 4) (view full meeting agenda). The public is welcome to attend and make comments.
Sarah B.
PROPOSED RICHMOND DISTRICT PARKING THAT MAY BE CONVERTED TO CAR SHARING SPACES:
A. 27th Avenue, east side, from 24 feet to 64 feet north of Geary Boulevard (40-foot zone removes Post IDs #127-4660, #127-04640, for 2 car share parking permits–Z004 & Z095)
B. 28th Avenue, east side, from Clement Street to 38 feet northerly (38-foot zone, for 2 car share parking permits–Z001 & Z094)
C. 33rd Avenue, west side, from 16 feet to 52 feet south of Balboa Street (36-foot zone, for 2 car share parking permits–Z003 & Z093)
D. 34th Avenue, west side, from 16 feet to 52 feet north of Geary Boulevard (36-foot zone, for 2 car share parking permits–Z092 & Z002)
E. 42nd Avenue, east side, from 16 feet to 52 feet south of Geary Boulevard (36-foot zone, for 2 car share parking permits–Z005 & Z090)
F. 42nd Avenue, east side, from Balboa Street to 35 feet northerly (35-foot zone, for 2 car share parking permits–Z006 & Z091)
G. Anza Street, north side, from 9 feet to 29 feet east of 44th Avenue (20-foot zone, for 1 car share parking permit space–G038)
H. Balboa Street, south side, from 3 feet to 37 feet west of 20th Avenue (34-foot zone, for 2 car share parking permits–Z030 & Z096)
I. Balboa Street, south side, from 28 feet to 71 feet west of 6th Avenue (43-foot zone removes Post IDs #321-05050, #321-05070, for 2 car share parking permits–Z031 & Z098)
J. Cabrillo Street, south side, from 20 feet east of 37th Avenue (20-foot zone, for 1 car share parking permit space–G040)