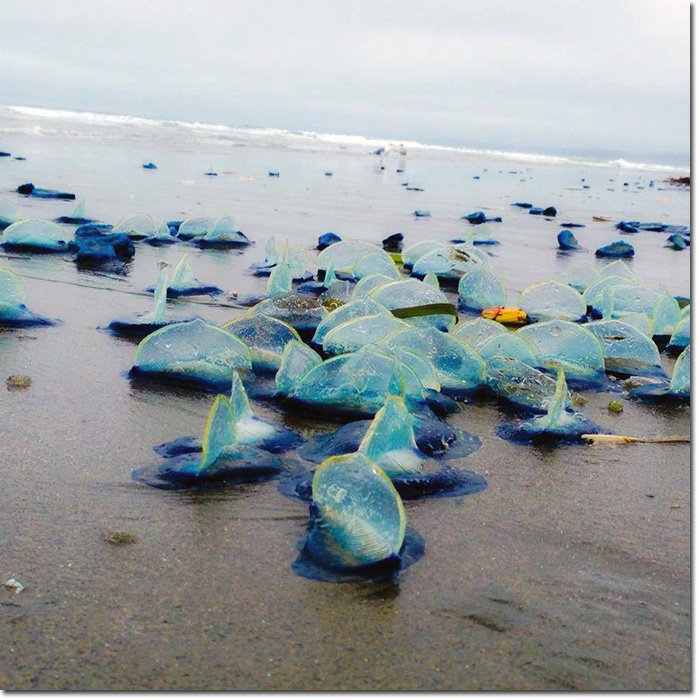 Photo by Carolina La Rotta Dratva via Ocean Beach Surf
Earlier this week, some blue jellies washed ashore at Ocean Beach. They're called velella, also known as "sea raft, by-the-wind sailor, purple sail, or little sail".
More about these blue creatures:
They are usually deep blue in colour, but their most obvious feature is a small stiff sail that catches the wind and propels them over the surface of the sea. Under certain wind conditions, they may be stranded by the thousand on beaches.
Like other Cnidaria, Velella velella are carnivorous. They catch their prey, generally plankton, by means of tentacles that hang down in the water. [Wikipedia]
Velella have been washing up on beaches along the California coast all summer, with reports from as far north as Oregon. Visitors to Baker Beach have also seen them this week.
Jim Watanabe, a lecturer at Stanford University's Hopkins Marine Station in Pacific Grove, told the Chronicle that the valella "go where the wind goes". This year's wind patterns, he said, are likely the reason for the creatures washing up on shore.
The creatures live offshore, on the surface of the water, and have a small ridge or crest running across them that acts like a sail, Watanabe said.
One RichmondSFBlog commenter had another theory – that the felines living off the coast of Lands End may have something to do with it…
The last time we had a massive jelly invasion was in April 2012, when thousands came ashore on Ocean Beach.
Sarah B.