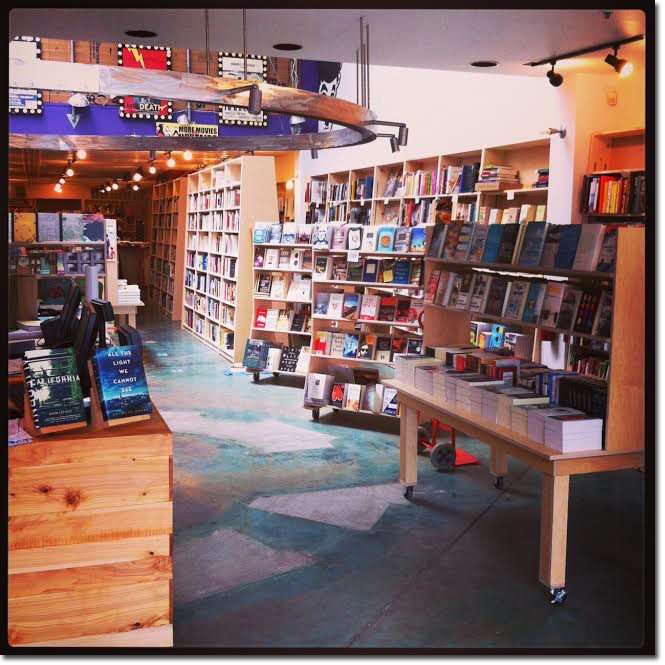 Inside the new Green Apple Books at 1231 9th Avenue
Since opening on Clement Street in 1967, Green Apple Books has grown to 10 times the size of its original location, moving into neighboring storefronts as its inventory expanded.
But today, a new chapter begins for the San Francisco landmark as it opens a new location in a completely different neighborhood at 1231 9th Avenue in the Inner Sunset.
The story of how it happened is part business and part good neighbor. In March, Le Video, a video rental store, was struggling in the 9th Avenue space. After years in business, the store was barely making rent and struggling to compete with today's culture of on-demand digital movies and television shows.
In April, Green Apple announced that they would be taking over half of the space as a co-tenant with Le Video. Green Apple opens today in the bottom floor of the building, and Le Video will maintain their business upstairs.
In addition to getting some help with the rent each month, Le Video also raised $60,000 via an Indiegogo campaign which should help it recover and stay solvent. "THANK YOU FOR SAVING LE VIDEO! We are looking forward to our future with you!" it says on their website.
Though this second Green Apple – Books on the Park location will only be one third of the size of the Clement Street store, it's a welcome addition to the inner Sunset neighborhood which has not had a bookstore in several years.
Stephen Sparks, the general manager of the new 9th Avenue Green Apple says "we're thinking of this space as more open and showroom-y where we'll be able to have great events." Like the upcoming Colorless Tsukuru Midnight Party on August 11 to celebrate the release of Haruki Murakami's latest novel, Colorless Tsukuru Tazaki and His Years of Pilgrimage.
Sparks says they're also planning to carve out a niche for nature books, local interest, and good literary fiction.
The new Green Apple Books in the inner Sunset is open daily from 10am until 10pm. This weekend they'll be celebrating their grand opening by giving away $25 gift cards every hour from 12noon to 8pm on Friday, and possibly Saturday and Sunday.
Normally we'd say "welcome to the neighborhood" when we write about new businesses here on the blog, but in this case, we'll say "way to go!". And to our Sunset readers, be sure to drop by and welcome them to YOUR neighborhood. 🙂
Sarah B.
P.S. – Someone tell actor Paul Giamatti. He was spotted at the Clement Street store last night so I'm sure he'd want to see the new location too while he's in town.