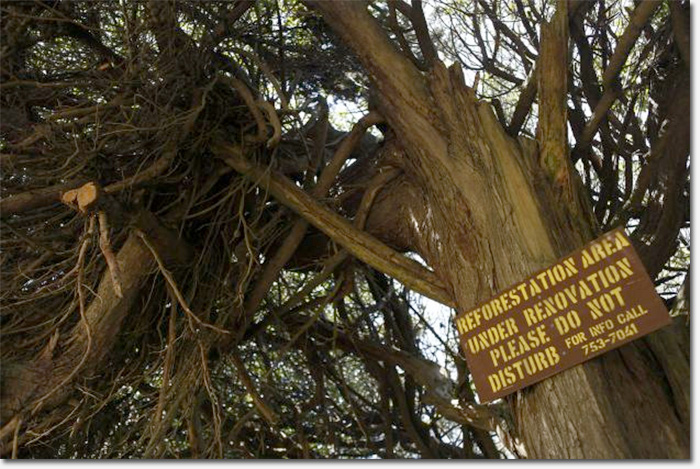 Broken tree branches caused by a vandal in Golden Gate Park. Photo: Katie Meek, The Chronicle
KQED Forum host Michael Krasny took on the topic of vandalism in Golden Gate Park in this morning's show. Last week, vandalism was reported in the AIDS Memorial Grove in the park in the form of damage to benches and trees, as well as one report of a city parks department truck getting its windows smashed.
Krasny asked what can be done about it, and he was joined by Marc Massarweh, San Francisco district attorney liaison assigned to work with Richmond Police Station, Captain Simon Silverman of the SFPD Richmond District station, and Phil Ginsburg, General Manager of SF Recreation & Parks Department.
There are a variety of challenges to preventing this kind of behavior including limited police patrols, the sheer size of the park (1,017 acres), and the unpredictable bad behavior of people who are mentally unbalanced.
Captain Simon Silverman asks residents to call police right away if they see something suspicious, such as vandalism or someone who seems suspicious or posing a danger to others.
One caller suggested that drones be used to monitor the park in the evening hours when legally, the park is closed to people and activity.
Massarweh said that only two people have been successfully prosecuted in the past year for vandalism in the park and that "it took a long time to build a case against them".
Despite the ongoing issue of vandalism in the park, Ginsburg maintained that "we have the best urban park system in the country" but said that we need a "cultural shift so people will regard the park as sacred space".
In one ironic moment, Krasny describes being in Marx Meadow over the weekend when a completely naked man sauntered through their picnic.
"There were people who were offended and felt that something should be done because children were there," Krasny said.
Listen to the full audio of the Forum broadcast below:
Sarah B.
Related:
Tree vandalism continues in Golden Gate Park, saplings are latest targets
Who's killing the trees in Golden Gate Park?