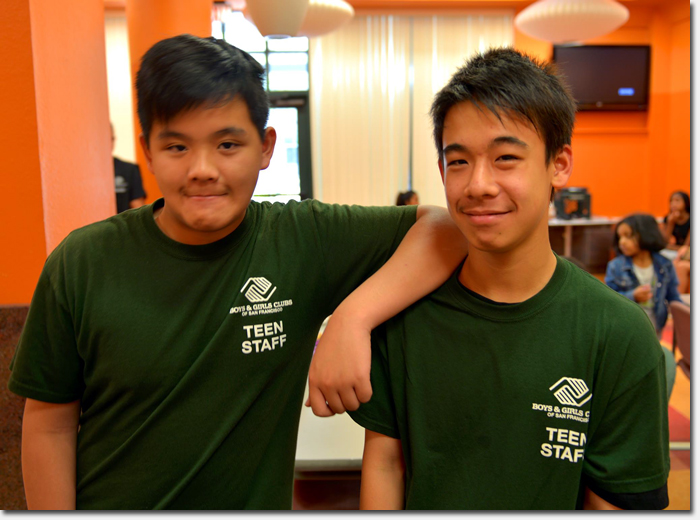 Two MYEEP interns working at the Boy's & Girls Club in the Tenderloin this summer.
I remember my first real job – it was selling (and sometimes nibbling on) Mrs. Field's cookies on Chestnut Street, and then I moved onto Lombardi's Sports on Clement Street where I worked in the shoe department. Those early jobs gave me important working experience where I learned how to deal with people, be professional, and take pride in my work. And it put a little spending money in my pocket.
The Mayor's Youth Employment and Education Program (MYEEP) works to provide first work experiences for high school students throughout the city.
"Annually, over 800 young people are given the opportunity to develop work skills that will benefit them for the rest of their lives. In addition to paid work experience, each MYEEP participant also engages in a variety of learning opportunities such as workshops, community service projects and field trips to colleges and companies," Selena Levy, Project Coordinator for the Richmond District, told us.
The program is currently looking for local businesses in the Richmond District to host MYEEP interns and provide them with work experience.
Levy says the guidelines for how a business can participate are flexible, but they typically look for opportunities where a MYEEP youth can work 6 to 8 hours during the school week in the afternoon hours (3-6pm).
"Most work sites take anywhere from 1-3 interns depending on the work site's capacity to supervise the youth and how much work they have for the youth to complete while they are there," Levy said.
In addition to work experience, MYEEP provides support to youth as they transition towards successful adulthood by strengthening their understanding of the connection between employment and education as well as the responsibility of adults to contribute positively to society.
If you own a local business and are interested in hosting some MYEEP youth interns, contact Selena Levy at selenal@cycsf.org or 752-9675 for more information.
Sarah B.