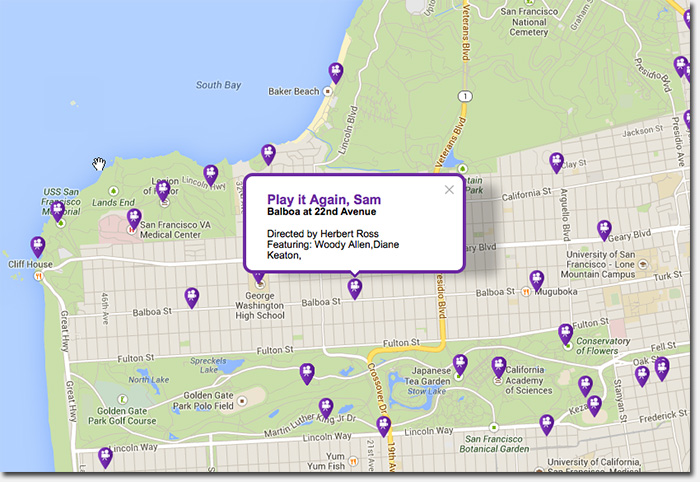 This hit the blogosphere a few weeks ago but we're just getting around to it now… A new map has been created that shows where movie scenes have been shot in San Francisco.
The data comes from an open source provided by the San Francisco Film Commission. Interestingly, there are a lot of movies not noted on the map like the scene from Harold & Maude that took place at the Sutro Baths ruins, but that is probably more a symptom of the Commission's lack of data.
(If you're curious about the full list of San Francisco films that are on the map, you can view it here.)
Newer films like Woody Allen's Blue Jasmine aren't on the map yet; he filmed at Ocean Beach as well as at Gaspare's Pizzeria on Geary. And let's not forget Woody directing and starring in his 1969 film "Take The Money And Run", which included a robbery scene at what was then a Bank of America on the corner of Clement and 9th Avenue (it's now a Bank of the West).
Some classics are noted on the map like The Lineup, and you may find a few "no kidding?!"'s on there like The Wedding Planner, starring Jennifer Lopez and Matthew McConaughey, which contained a scene at Lands End.
Too bad the map doesn't allow for crowdsourced data – I am sure the readers of this blog know lots of spots in the 'hood where movies have been filmed. 🙂
Sarah B.