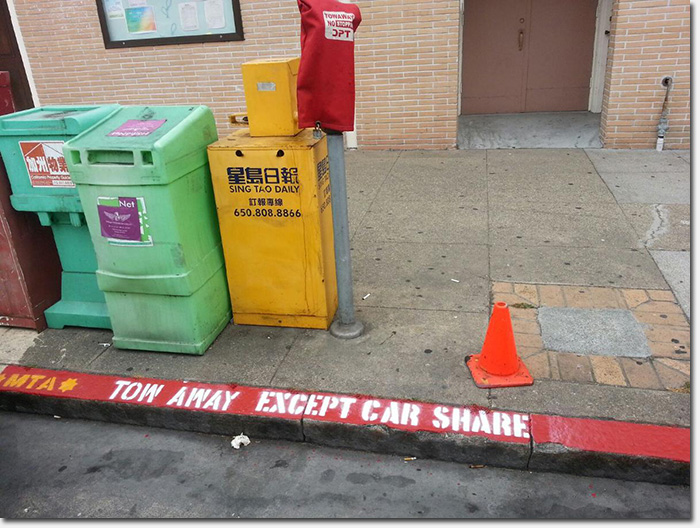 Photo by David H.
Cub reporter David H. snapped this pic today of one of our first car share spaces being installed on Clement Street near 24th Avenue.
These new car share spaces are part of a city-wide effort to convert 900 street parking spaces into ones reserved for car share companies in the next two years. So far, 20 have been approved for the outer Richmond District.
Three car sharing companies – Zipcar, Bay Area nonprofit City CarShare and San Francisco's Getaround – will be the recipients of the spaces. According to the Chronicle, the SFMTA approved the program after a smaller two-year test, involving a dozen street spaces, was deemed a success.
According to the agreement with the car sharing companies, at least 30 percent of the spaces have to be in the outer two-thirds of the city, and the price charged to the companies for spaces becomes less expensive in neighborhoods distant from downtown, as a way to encourage them to spread their vehicle fleet around the city. The monthly fee ranges from $50 per space per month in the outer third of the city to $150 in closer-in neighborhoods to $225 in the downtown area. [SFGate]
The new car share spot shown in the photo above was formerly a metered parking space (note the red hood over the meter). Strangely, neither 24th Avenue or Clement Street were included in the list of spaces that were approved at the July 11 hearing (see list below).
David said the city painters who are converting the spaces also had other spots on their work order that were not on the list that was shared publicly. Perhaps some spots were changed at the hearing or approved at another time? UPDATE: Commenter Andrew let us know that there were other spaces, including this one on 24th Avenue, approved in a May 16, 2014 meeting (PDF).
We think the SFMTA could have been more creative and come up with a curb color other than red for the car sharing spaces (isn't it counter-intuitive to park in a red spot?!). How about a lovely baby blue or a rainbow painted curb?
Sarah B.
Related: City plans to remove 20 residential parking spaces for car share companies
A follow-up story from KTVU:
20 PROPOSED RICHMOND DISTRICT PARKING THAT WILL BE CONVERTED TO CAR SHARING SPACES:
A. 27th Avenue, east side, from 24 feet to 64 feet north of Geary Boulevard (40-foot zone removes Post IDs #127-4660, #127-04640, for 2 car share parking permits–Z004 & Z095)
B. 28th Avenue, east side, from Clement Street to 38 feet northerly (38-foot zone, for 2 car share parking permits–Z001 & Z094)
C. 33rd Avenue, west side, from 16 feet to 52 feet south of Balboa Street (36-foot zone, for 2 car share parking permits–Z003 & Z093)
D. 34th Avenue, west side, from 16 feet to 52 feet north of Geary Boulevard (36-foot zone, for 2 car share parking permits–Z092 & Z002)
E. 42nd Avenue, east side, from 16 feet to 52 feet south of Geary Boulevard (36-foot zone, for 2 car share parking permits–Z005 & Z090)
F. 42nd Avenue, east side, from Balboa Street to 35 feet northerly (35-foot zone, for 2 car share parking permits–Z006 & Z091)
G. Anza Street, north side, from 9 feet to 29 feet east of 44th Avenue (20-foot zone, for 1 car share parking permit space–G038)
H. Balboa Street, south side, from 3 feet to 37 feet west of 20th Avenue (34-foot zone, for 2 car share parking permits–Z030 & Z096)
I. Balboa Street, south side, from 28 feet to 71 feet west of 6th Avenue (43-foot zone removes Post IDs #321-05050, #321-05070, for 2 car share parking permits–Z031 & Z098)
J. Cabrillo Street, south side, from 20 feet east of 37th Avenue (20-foot zone, for 1 car share parking permit space–G040)