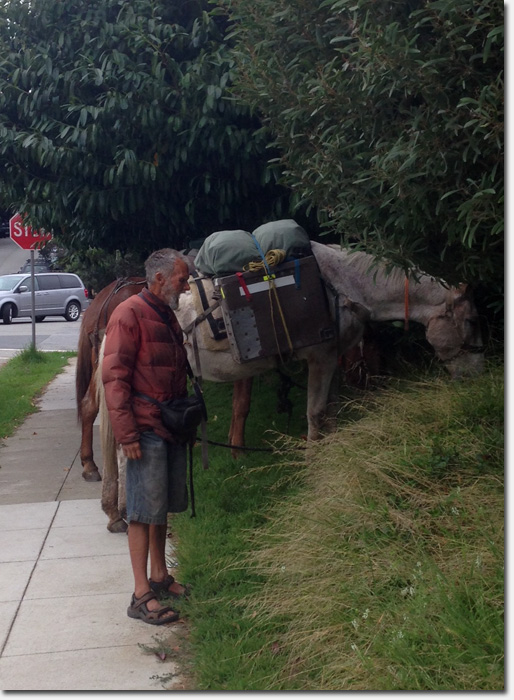 Photo by Geoff C.
Activist John Sears passed through the neighborhood on Sunday with his pack of mules. Normally he travels with 3 mules (Little Girl, Lady and Pepper), but this time he had just two. One is currently lame and unable to travel. They were seen grazing on the 14th Avenue side of the Park Presidio greenbelt.
Sears, who likes to be known simply as "Mule", is 66 years old and has been traveling with his pack for the past three decades. They've made their way through sixteen western states, according to their website.
The group has a bit of a cult following including 28,000+ fans on Facebook. The purpose of their old school travel is to call attention to the increasing trend of urban sprawl.
Last year while passing through San Diego, Sears told a local news station, "There must be a balance between the man-made world and the natural world," he said. "We can't live in this unbalanced state and we all know it."
The mules also saw the sites on this trip, making stops in the Marina, the Ferry Building and Pier 39 – see pics here.
Sears and the two mules got a ride across the Bay Bridge on Saturday night into the city. Last year, Sears headed north so he may be working on arranging a ride across the Golden Gate Bridge as well. By law he is not allowed to walk the mules across the bridge.
A new documentary. "Mule: Living on the Outside" is in the works about the 3 Mules. Watch the trailer below and find out more at 3MulesMovie.com.
Safe travels to John and his mules.
Sarah B.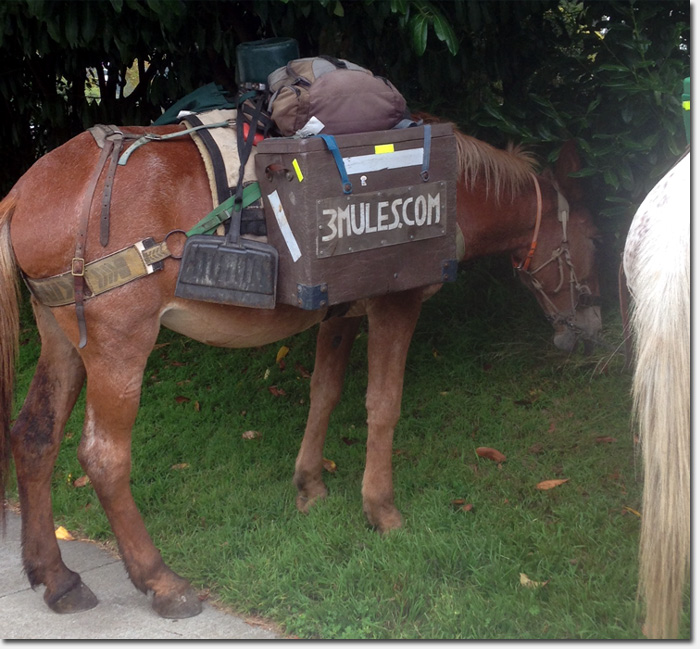 Photo by Geoff C.