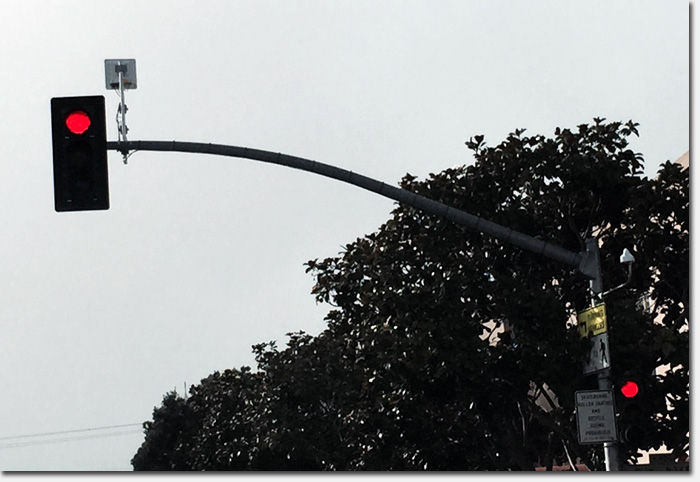 Photo by Rob R.
A couple of readers have written in to ask about the new devices that have been attached to Geary stoplights from Arguello to Park Presidio.
They're not stoplight cameras, or cameras of any kind. They've been put in place to make the Muni buses on Geary run more efficiently.
"It is a Proxim Radio, which is one component of Transit Signal Priority that is currently being installed along Geary to give signal priority to Muni to reduce travel time and to make it more reliable," said Paul Rose, spokesman for the SFMTA.
The GPS devices are designed to keep lights green when a Muni bus is approaching. The system also has the ability to make red lights shorter based on the presence of a bus.
The system was installed on Mission Street earlier this year to speed up the 14-Mission, 14L-Mission Limited and 49-Mission-Van Ness lines.
Jeff Flynn, service planning manager for the San Francisco Municipal Transportation Agency, told the Examiner that the system is "cutting four to five minutes, or 10 percent, off the travel route times from beginning to end" along Mission.
The SFMTA wants to get the system installed on Geary Boulevard in advance of the $240 million Bus Rapid Transit project that is slated to debut in 2018.
The SFMTA didn't tell us when this signal priority system will go into effect on Geary, whose 38 and 38L lines carry 55,000 people per day, but it could take some time due to aging lights and signal boxes.
"It's an aging infrastructure that we're replacing and upgrading and that can be constraining," Flynn told the Examiner. "But from what we're experiencing so far, that isn't causing as many problems."
Sarah B.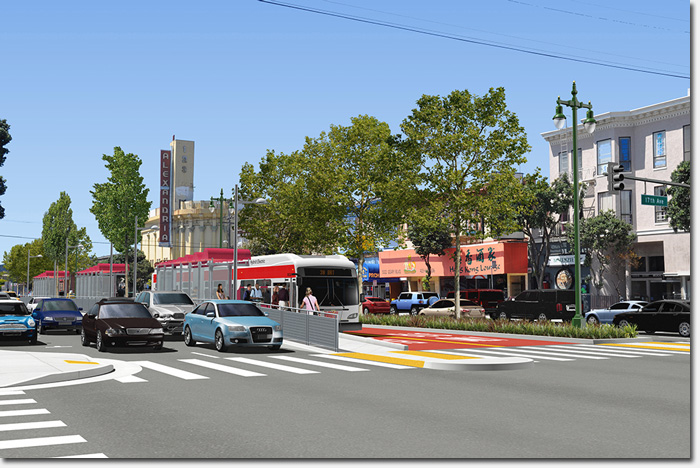 Geary Blvd. at 17th Ave.: Visualization of center-lane Bus Rapid
Transit with dual medians. View more