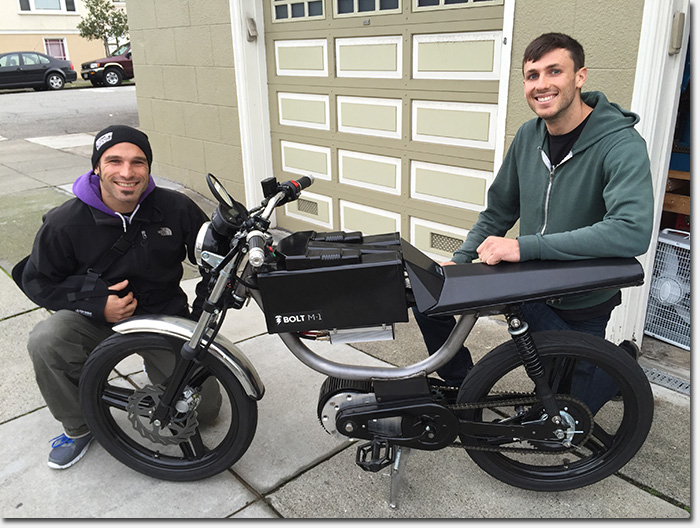 Bolt Motorbikes founders Nathan Jauvtis and Zachary Levenberg with the Bolt M-1
Like in many neighborhoods in San Francisco, Richmond District residents make the most of their available space. And often that means turning their garages into home offices, a residence, or in the case of Nathan Jauvtis, a workshop where Bolt Motorbikes was born.
The Bolt Motorbikes M-1 is a 100% electric moped, invented by Jauvtis and his co-founder Zach Levenberg. Both of the founders are moped enthusiasts, and met in 2006 as members of Creatures of the Loin, the San Francisco division of the Moped Army that meets up weekly for group rides around the city.
Both are mechanical engineers with a passion for clean transportation. Jauvtis worked a stint at Zero Motorcyles, one of the industry's leading electric motorcyle companies, and Levenberg worked on one of the first protoypes for Lit Motors, who make an all electric, 2-wheel pod-like vehicle.
Jauvtis first began tinkering with the idea of an electric moped around 2010, spending his nights and weekends building the first prototype which he called "Blackie", named after the donkey in True Grit.
It wasn't until 2012 that Jauvtis and Levenberg began collaborating on the project. With funds from friends and investors, they officially started Bolt Motorbikes and got to work on refining the product.
The Bolt Motorbikes M-1 has some impressive stats when it comes to riding around San Francisco. Technically, it's classified as an electric bike so it does not require a driver's license to operate (and can even use the bike lane). The Bolt runs off its proprietary lithium ion battery, composed of 160 individual cells encased in two compartments that straddle the frame.
Jauvtis estimates the overall life of the Bolt's battery is 2000 cycles (25-30 miles per cycle), or 8-10 years depending on usage.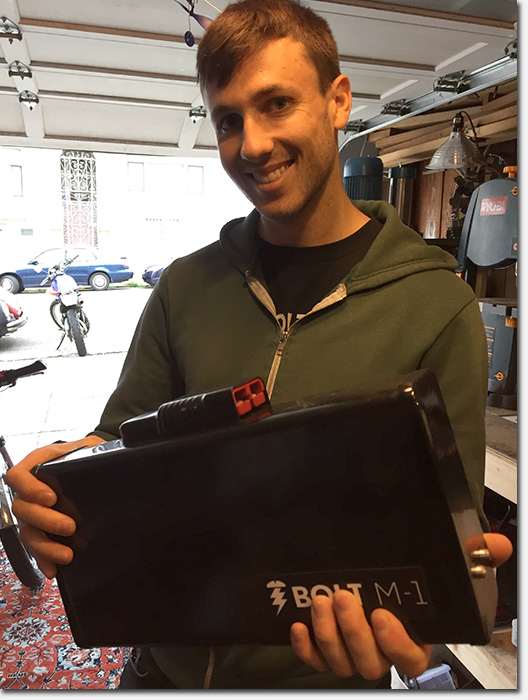 Levenberg holds up the Bolt's lithium ion battery compartment, which if needed, can be removed for recharging.
On a full charge, the Bolt can travel 25 to 30 miles per day, at speeds up to 35 miles per hour. Pretty impressive when you compare it to something like the electric Scoot scooters that you can rent around the city, which only have a range of 5-10 miles on a full charge. (Oh and whatever you do, don't call the Bolt Motorbike a scooter, as we learned that scooters and mopeds are completely different classes of vehicle.)
The Bolt Motorbike M-1 has two drive modes – economy and sport. In economy mode, you are restricted to a top speed of 20 mph, but your range increases to as much as 50 miles. During testing at the Polo Fields, the Bolt circled the Polo Fields' velo track for 50 miles at a speed of 20 mph.
When you put it into sport mode, which is technically only allowed when you are driving the Bolt off-road (e.g. not on city streets), the bike has a range of 30 miles and a top speed of 35mph.
Levenberg, a SF native, led us on a test ride through the neighborhood and Presidio just before Christmas. In short, we had a blast. The Bolt was easy to learn (no shifting required) and fun to drive. It's not a large bike, weighing in at just 140 pounds, so you don't feel overwhelmed by its heft.
Yet the Bolt feels substantial when you're riding it. The frame is very solid and the tires are robust – fatter and sturdier than those on a scooter or electric bicycle.
"It's a great motorbike for women," Levenberg pointed out, because of its smaller frame and reduced weight.
And it's no slouch on the city's inclines. We zoomed up long, steep hills like Battery Caulfield Road just inside the 15th Avenue Presidio gate.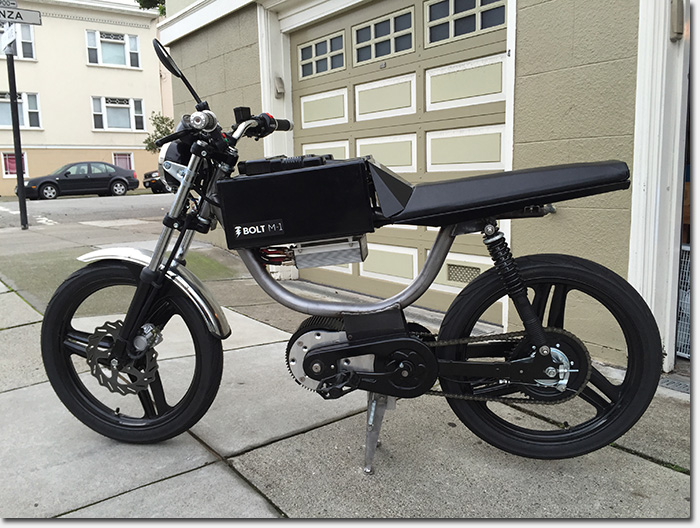 The Bolt is virtually silent, which ironically is what turns heads when you're out riding around. There's a little whirring when you accelerate, but otherwise it's very quiet. When you pull up to a stop sign, pedestrians usually stare because they expect it to sound like a guttural motorcycle but instead, it sits silent.
When we headed out on our test drive, Levenberg said he never goes out on a Bolt without his business cards because inevitably, someone will stop him and ask what that is he's riding. Sure enough, as we came to a stop sign, a man crossing the street implored us to pull over so he could get a closer look.
Jauvtis and Levenberg debuted the latest version of the Bolt Motorbike, code named Raven (or Darth Vader as we dubbed it), at their moped group's annual rally last September.
"People loved it," Jauvtis says. And since then, the two have been marketing the bikes and taking pre-orders for their first production run. "About 150 people have expressed interest."
The Bolt Motorbikes M-1 sells for $4,995, which isn't outrageous when you consider that a new (gas-powered) scooter sells for around $3,500.
To fuel the bike, Jauvtis and Levenberg also had to create a custom charger. The standard charger, which comes with the purchase of the Bolt, requires about 5 hours to charge the bike to 100% capacity. If you purchase the charger upgrade (price TBD), you can get to 90% capacity in about 90 minutes.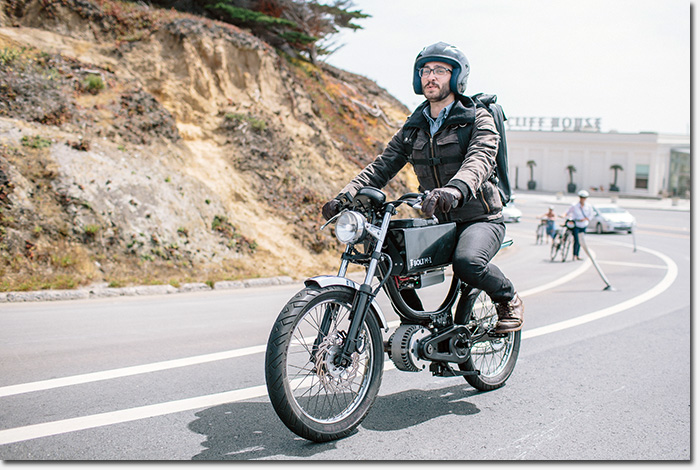 The Bolt Motorbikes M-1 on a ride near the Cliff House
Once all the parts are in hand, it takes about one day to assemble the finished bike. The duo are always refining the bike and working on add-ons, like a rack to carry extra batteries for those long road trips. They've also made the batteries removable so if you can't charge the bike where you park it, you can take a battery with you to charge inside.
The Bolt Motorbike also has an app that can be used with it. The app connects to the bike via Bluetooth and wirelessly unlocks the Bolt, communicates speed and distance measurements in real-time and then records the data onto a remote server. A phone clamp sits on the Bolt's handlebars and also includes a USB charger so you can charge your phone off the Bolt's batteries.
Bolt is still in fundraising mode for its first production run, and plans to launch a Kickstarter campaign in early 2015. In the meantime, they love to give test drives to anyone who's interested. Just drop them a line through their website and tell them the Richmond Blog sent you.
Sarah B.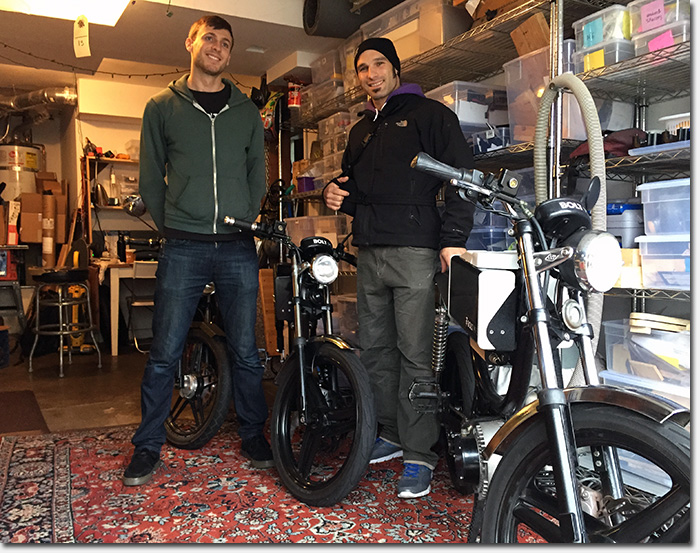 Bolt Motorbikes founders Zachary Levenberg and Nathan Jauvtis inside their outer Richmond garage workshop