48 years ago yesterday, on January 14, 1967, the historic Human Be-In took place at the Polo Fields in Golden Gate Park.
The event, officially titled the "A Gathering of Tribes", was organized to protest the bourgeois mentality of the older generations and, specifically, a California law passed the year before making LSD illegal.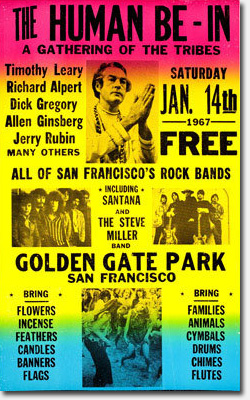 At the time, San Francisco's hippie counter-culture was fast growing and the event was a precursor to the city's "Summer of Love", epicentered in the nearby Haight Ashbury.
The one-day event drew an estimated 30,000 people to the Polo Fields, and featured appearances by the Grateful Dead, Allen Ginsberg, Timothy Leary, Dick Gregory and Owsley "Bear" Stanley handing out acid to the crowd (who was also the sound engineer for The Grateful Dead).
The Human Be-In garnered national media attention, and firmly planted the hippie movement into America's consciousness (and San Francisco as its home base). The gathering served as a prototype for many 1960s counter culture celebrations.
In 2004, Dino posted his memories of the event to outsidelands.org.
"Yes, I attended the first Human Be In at the Polo Fields in 1967. I was 15 and it was more of a hugh consciousness raising event which announced to the world that the hip/peace movement was here and growing while the times were about to be a changin'. I saw Allen Ginsburg and Timothy Leary and some barely dressed ladies while folk rock and poetry went Psychedelic. I was amazed and it changed my life. I would not be the same person today without that experience."
Were you at the Human Be-In in 1967? Leave a comment to let us know.
Peace and love,
Sarah B.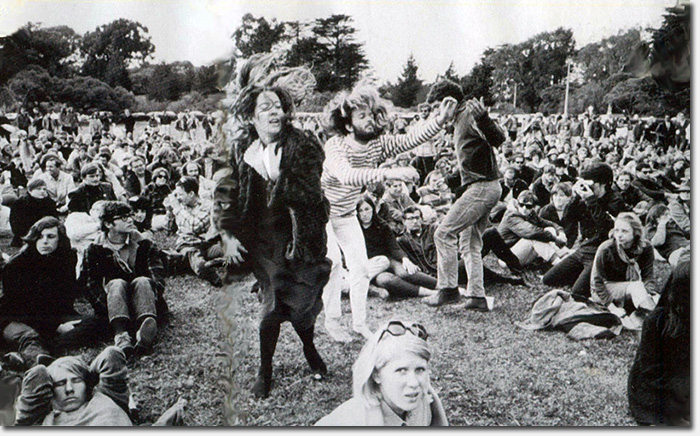 Photo courtesy of The Allen Ginsberg Project