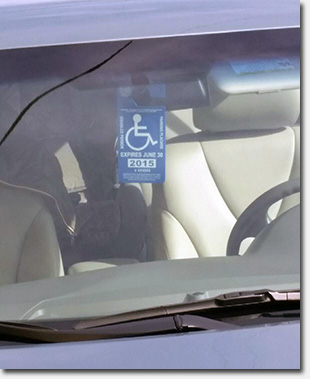 Cub reporter David H. came upon some plainclothes SFMTA officers on Clement Street who are in the neighborhood today enforcing the blue disabled placards on cars.
The blue placards, which are issued to people with disabilities, exempts a driver from paying a parking meter for up to 72 hours (that's any parking meter, not just ones in blue spaces).
In San Francisco, that can save $55 or more a day in parking costs. California is one of just five states that provide disabled-placard holders with free, virtually unlimited parking.
In November, the Chronicle reported that there were 60,750 placards held by drivers in the city in 2012. That's twice as many as were registered in 2001, and is more than double the number of metered spaces that actually exist in San Francisco (28,000).
The abuse of these placards is a long-time problem for the city. A 2008 Muni report found that almost half the cars in downtown metered spaces had blue placards hanging from their rear-view mirrors.
A 2014 report from the City Controller's office reported an estimated $22.7 million in lost meter revenue in 2013. Not to mention the abuse makes parking even harder for those disabled drivers who have valid placards.
So it's no surprise that the SFMTA allocates officers and time to spot-check placards, trying to catch abuse as it's happening. Officers visit different parts of the city several days a week, pulling up placard numbers at parking meters to see if they're valid. A placard may be phony, expired or even stolen.
During their enforcement today, SFMTA officers had no problem finding violators. They issued 10 citations alone on Clement, and one officer told David that they estimate about 50% of the placards being used city-wide are invalid.
Abusing a placard is expensive – a citation costs the car owner $1,000, but catching them can be time-consuming and costly to city resources.
David chatted with a SFMTA officer while he waited for an owner of a car that was using a placard that had been stolen from someone born in 1929.
On one block of Clement, David observed 3 metered parking spaces that had cars with blue placards parked in them.
"Clement Street is placard heaven," the SFMTA officer said.
Sarah B.