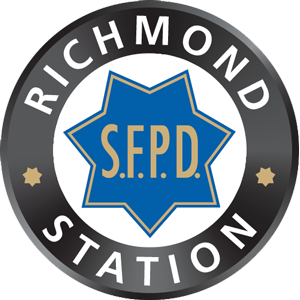 SFPD Richmond District Police Station
Weekly Update 03-13-2015
From Captain Simon Silverman
NEXT COMMUNITY MEETING:
Tuesday 03-17-2015 @ 7:00 PM
Richmond Station Community Room
461 6th Ave.
Here are some of the 745 incidents handled by officers in the Richmond Police District this past week:
ARREST: THEFT FROM A LOCKED VEHICLE
Cornwall & 5th Ave
03-06-2015 9:37 PM
A resident called 911 to report a person breaking into a car. Arriving officers saw the suspect get out of a car clutching a reusable shopping bag. As the officers approached him, he dropped the shopping bag and said, "I knew I shouldn't have gone into that car. I just needed a bag." Officers contacted the owner of the car who confirmed the theft of the reusable bag (and the property inside of it).
Captain's Note: In light of this suspect's disregard for California's theft laws, I'm surprised by his respect for San Francisco's bag ordinance.
ARREST: VANDALISM
Clement & 2nd Ave
03-07-2015 1:30 AM
Officers responded to a report of two people spray painting graffiti on a building using blue paint. They detained two suspects, one of whom had wet matching blue paint on his hands (this is known in the police vernacular as a "clue"). The suspects admitted to having vandalized the building and they had more spray paint as well as permanent marking pens with them. One suspect was out on bail from a recent vandalism arrest.
Captain's Note: The expression, "caught red handed" originated in the 1400s and most likely referred to catching a murderer or poacher with blood still on his hands. In our case, the suspect was caught blue handed, but the concept endures.
ARREST: UNLAWFUL FIRE / CAMPING IN A PARK / VIOLATION OF COURT ORDER
Botanical Garden in Golden Gate Park
03-07-2015 4:38 AM
SFPD Officers and Park Rangers patrolling the Botanical Garden in Golden Gate Park found that a suspect had been camping unlawfully in the closed garden, had set a small campfire and was in violation of a court order to stay away from the garden. The stay away order was issued after the suspect previously caused damage to the garden.
TELEPHONE SCAM
Geary & 31st Ave
03-07-2105 12:00 PM
A resident received a call from a person claiming to be from the IRS. The suspect told the victim that if he did not pay back taxes immediately he would be arrested. The suspect ordered the victim to go to the store and buy "Reloadit" money cards for payment, which the victim did. The victim then gave the card information to the suspect over the phone and the suspect emptied the cards of value stealing almost $6000.
Captain's Note: Sadly, we keep seeing this scam. Here is a link to the IRS web page on tax scams: http://www.irs.gov/uac/Tax-Scams-Consumer-Alerts
ARREST: WARRANTS / RESISTING ARREST
Nancy Pelosi Drive & Bowling Green
03-07-2015 5:21 PM
Officers responded to a report of a suspicious person peering into cars. They found the suspect, but as soon as he saw the officers he took off running. He was caught after a short foot pursuit, and then gave the officers a fake name and date of birth. Once they determined his true identity, they learned that he had several warrants for his arrest.
ARREST: VANDALISM TO A VEHICLE / MISDEMEANOR WARRANTS
Geary & 20th Ave
03-08-2015 4:45
The victim was sitting in her car at a traffic light when the suspect ran up and deliberately shoved his shoulder into her door causing a large dent. Officers arrived and arrested him for vandalism and for several misdemeanor warrants.
THEFT FROM A LOCKED VEHICLE
Divisadero & Bush
03-09-2015 8:30 AM
The victim left her purse in her car for just a few minutes while she went into Starbucks. She returned to see a stranger holding her purse and standing next to the broken window of her car. She confronted the suspect and grabbed her purse back. The suspect fled on foot in the company of a second suspect who was likely acting as a lookout.
Suspect #1 (purse stealer): Black male, 20-25 years old, 6'1" 180lbs, wearing a gray hooded sweatshirt and gray pants
Suspect #2 (lookout): Unknown race male, 5'10", no further details
Captain's Note: When a suspect sees you pull up and run into Starbucks, he knows he has about 5 minutes to break into your car (he only needs about 30 seconds). No matter how quickly you intend to return, it is never a good idea to leave valuable items in your car.
ARREST: FAILURE TO REGISTER AS A SEX OFFENDER
Geary & Collins
03-10-2015 4:23 PM
Officers conducted a traffic stop for vehicle code violations and discovered that a passenger in the car was a convicted sex offender who had failed to register at his current address as required by law. (The suspect does not live near Geary & Collins, but happened to be driving in that area when stopped).
ARREST: FELONY WARRANTS
Geary & 10th Ave
03-10-2015 6:00 PM
Officers were aware that a suspect had warrants for his arrest for assault with a deadly weapon, grand theft from a person, and battery. They tracked him down at his place of work and arrested him.
FATAL TRAFFIC COLLISION
Geary & 26th Ave
03-11-2015 10:47 AM
A driver in a van was turning from southbound 26th Ave to eastbound Geary when he struck a pedestrian who was crossing Geary from south to north in the east crosswalk. The pedestrian later died of his injuries.
Captain's Note: I am deeply saddened by this tragedy. Officers from Richmond Station have repeatedly conducted enforcement operations at this intersection ticketing drivers who fail to yield to pedestrians. Usually, one of the people they cite will complain to me that these operations are a waste of police resources. QED, they are not. The enforcement will continue at this intersection.
A further note on legal action taken against drivers who cause collisions:
Following a fatal collision, the SFPD presents the completed investigation to the District Attorney's Office and the DA's Office determines what charges they wish to prosecute.
Following a non-fatal injury collision, the SFPD issues a citation to the party determined to be most at fault.
ARREST: DRIVING UNDER THE INFLUENCE OF ALCOHOL
Geary & Blake
03-12-2015 1:11 AM
Officers saw a car run a red light and detained the driver. Based on her behavior during the traffic stop, the officers suspected that she was under the influence of alcohol. Their suspicions were not diminished by her unsatisfactory performance on a series of field sobriety tests. Preliminary alcohol screening showed that her blood alcohol level was approximately 0.15 % or nearly twice the legal limit of 0.08%.
ARREST: THEFT FROM A VEHICLE / VIOLATION OF PROBATION
Hagiwara Tea Garden Drive (Golden Gate Park)
03-12-2015 1:38 PM
People in the park saw a suspect smash the window of a car and steal suitcases full of property. Several citizens grabbed the suspect and held him down while others called 911. Officers arrived quickly and arrested the suspect. All of the stolen property was recovered. The suspect was already on probation for theft.
ARREST: DRIVING UNDER THE INFLUENCE OF ALCOHOL AND OR DRUGS
Geary & 4th Ave
03-13-2015 2:05 AM
Officers saw a person driving without wearing a seat belt. They detained him and found that he smelled strongly of marijuana and alcohol. Field sobriety tests confirmed that he was under the influence.
Captain's Note: The suspect in this case had a medical marijuana card. Driving while under the influence of medically recommended marijuana, prescribed medications or over the counter drugs is still a crime. The danger is in the impairment caused by whatever substance the driver may have taken.
CONTACT US:
Call 911 for emergencies
Call 415-553-0123 for non-emergency police service
Richmond Station
461 6th Ave.
San Francisco, CA 94118
415-666-8000
E-mail: SFPDRichmondStation@sfgov.org
Follow us on Twitter: @SFPDRichmond