The neighbors that live along Park Presidio along Funston and 14th Avenue are a close-knit bunch, often sharing news and tips with each other through an online forum we also follow.
But this week one posting took a more sentimental turn when a neighbor paid tribute to Leroy, a beloved dog who, along with his owner Lloyd, were well known along the boulevard.
We were reminded that it's the small things that make a neighborhood feel like one, be it the neighbor you recognize, or a great dog that got on with everyone.
R.I.P Leroy, we hope there are treats where you are.
Sarah B.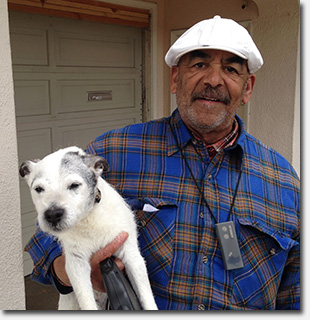 If you look out your front window almost anytime of the day or night, you were likely to see Lloyd and Leroy walking around the neighborhood. You might not know their names, but you know who they are — the guy with the white hat and the white, Spanky & Our Gang terrier with a few ink spots and a stubby white tail. Lloyd always has treats in his pocket for the other neighborhood dogs, and Leroy had a lot of canine buddies.
Five or so years ago, Leroy went missing. Signs were posted and everyone who knew was on the lookout. When all hope was gone, a woman tells Lloyd, "I saw this dog at a homeless encampment down by the beach." Lloyd sprang into action, found the camp and picked up a very dirty Leroy who had been missing for days, and brought him home.
The last six months or so, we would see Lloyd walking on the same schedule, but pulling an open suitcase with Leroy in it. Leroy was sniffing the air, enjoying familiar neighborhood scents. Lloyd always made Leroy walk the last block, apparently this part taking the same amount of time for Lloyd to walk the other nine.
Eighteen and a half years later, Leroy decided to move on to the next fire hydrant in the sky.
Sympathies to our neighbor Lloyd. Leroy was truly one lucky dog. – Kay
What followed were more memories of Leroy and condolences for Lloyd:
"I will miss seeing Leroy and I hope that Lloyd knows we love him as much as we loved Leroy."
"I'll miss running into you at night and Oliver will miss you and his little buddy. I'm thankful we met and our neighbors. Leroy will always be remembered."
"Leroy was one of my dog Wallie's first friends, and she still stares up the block looking for him many early evenings. Lloyd introduced Wallie to treats and we used to call our meetings the doggie cocktail hour."
"Leroy definitely inspired me to keep trying — no matter what my excuse."