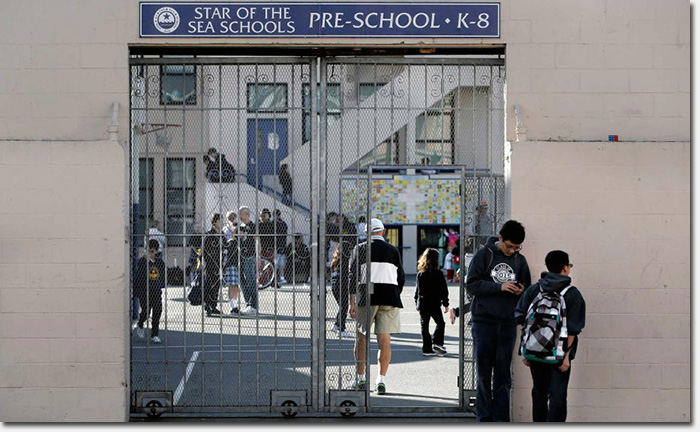 Photo: Michael Macor / The Chronicle
The Examiner reported yesterday that two head priests at Star of the Sea Church, Rev. Joseph Illo and Rev. Patrick Driscoll, were removed from their leadership positions at the Geary Boulevard school.
The change comes after several months of controversy since Father Illo took over at Star of the Sea Church in Summer 2014. After taking the helm, he implemented an unpopular new altar server policy that excluded girls. At the time, Illo told the media that he had "no choice but to exclude girls because the future of the Catholic Church is at stake."
Church leadership was again heavily criticized by parents from the adjoining school when they
distributed a pamphlet about sexual topics
to students as young as eight.
"It talked about some pretty serious things, that pamphlet," said parent Meghan Parent. "So yeah, obviously we want to protect our kids as much as possible."
The Star of the Sea School and the adjoining church share a name and real estate, but not leadership and members. The two organizations are technically separate, and most of the students and their parents are not members of the church.
In March, more than 100 parents of Star of the Sea School students asked the San Francisco Archdiocese that the controversial leaders of their school's church be removed from their posts. Parents were concerned that the church's new policies and attitudes have excluded many children from participating in the school's spiritual activities.
To further fuel the controversy, details surfaced about a civil case, settled in San Joaquin County Superior Court in 2005, which found that Father Illo inflicted emotional distress on an 11-year-old girl while at St. Joseph's Parish in Modesto. The incident occurred on Sept. 11, 2001, when the girl reported alleged sexual misconduct by another priest working under Illo.
It appears that the Archdiocese shared the concerns of the Star of Sea parents, and has removed both Father Illo and Father Driscoll from their leadership positions at Star of the Sea School. The two will remain as leaders of the Star of the Sea Church.
According to the Examiner, the Rev. Vito Perrone is serving as the interim chaplain at Star of the Sea School, an arrangement that keeps Illo and Driscoll "away from the school," said Christy Brooks, a parent of two sons at the Richmond district school. Brooks added that Perrone has made an effort to meet with parents at the school.
Sarah B.