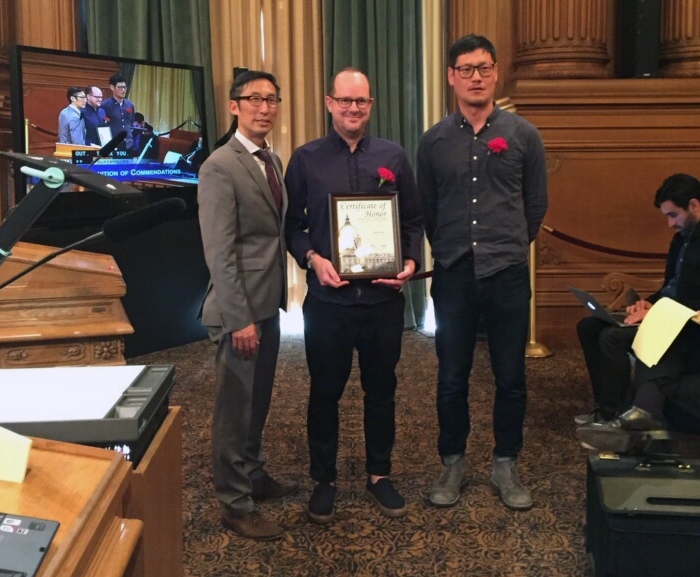 Park Life gets honored at City Hall. L to R: Supervisor Eric Mar, Jamie Alexander, Derek Song
Here are some local links to jump start your Wednesday…
Park Life boutique and gallery on Clement Street was selected as the 2015 Small business of the Year for District 1 by the San Francisco Board of Supervisors. That meant a trip to City Hall to receive a certificate and pose for pics. Congrats to owners Jamie Alexander and Derek Song!
This Sunday, June 7, there's a big volunteer cleanup at Ocean Beach in honor of World Ocean's Day. Meet up at the N Judah Muni stop at Ocean Beach at 9am to get gear and instructions (snacks will also be provided). The cleanup is part of a global event organized by Guy's Trust.
The former GS Riverside BBQ joint on the corner of Geary and 2nd Avenue is now called "Fajitas Restaurant". We haven't been by to see the menu, and we're not sure if it's a new owner or just a change in concept. And ok, it's not a taqueria as so many of you have asked for but it's getting closer… 😉



Families rejoice! You all know this already but 7×7 has caught on that the outer Richmond District (well we'd say the WHOLE Richmond District…) is the best place for families in San Francisco. "The far-flung borough may have a reputation for fog, but the neighborhood delivers on the family-friendly front."
Another online pub, Mommy Nearest, also voted the Richmond District Branch of the SF Public Library (9th Avenue) as one of the 5 best in the city for kids. "Graced with its own playground and grassy area for running around, the entrance to the children's section of this library is located on 10th Avenue — it's also on an entirely separate floor from the adult section. Here, you'll find a large selection of children's books in English (as well as Russian and Chinese), plenty of study rooms for older kids and a completely separate teen section."
The USS Golden Gate, a neighborhood-based science fiction fan club (which claims to have members worldwide), is inviting new members to join its ranks. Their motto is "Live Long and Party On, Dudes!" Chapter meetings occur every second Sunday at 4pm on each odd month with events periodically. Their meetup spots include Kawika's Ocean Beach Deli on La Playa and The Balboa Theater.
In case you need a reminder, 7×7 has a nice article on "What to do in Golden Gate Park". Don't miss Shakespeare's Garden, a paddle boat excursion at Stow Lake, learn to Lindy, or play a round of frisbee golf or archery.