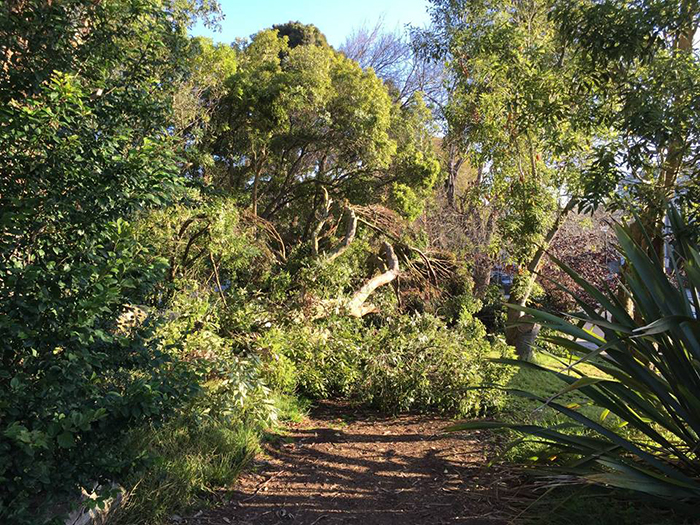 In the fourth incident since January, another tree has come apart on the Park Presidio greenbelt, dropping a large eucalyptus branch across a pedestrian walking path.
On Tuesday night around 8:45pm, a large branch snapped off a eucalyptus on Funston between Anza and Balboa. It fell directly across the marked walking path in the park where people often jog, stroll or walk their dogs.
"This branch is as big as the tree that fell a few feet from this branch a few weeks ago," wrote Quimby M. who sent us the photos.
This is the fourth incident so far this year of large trees or branches falling in the park area. In late March and April, two incidents caused severe damage to parked cars along the greenbelt on Funston Avenue. The April tree fall just missed a homeless man known for living next to the greenbelt.
In May, a pine tree fell across a walking path; thankfully no one was injured.
"I felt my house rumble and then prayed no one was walking on such a lovely night. I'm beyond frustrated with the city," Quimby said about last night's branch fall.
The ongoing incidents are especially frustrating for neighbors that live on Funston and 14th Avenues alongside the greenbelt. Many of them volunteer their time to maintain the park, picking up trash and debris, and helping clear areas to prevent homeless encampments.
"Why do I keep helping to maintain the greenbelt when the city doesn't care – clearly they would have trimmed or downed trees if they cared about people's lives right?" wrote one neighbor in an online posting about Tuesday's incident.
So Rec & Park, is there a plan in place to assess the trees along the greenbelt? How many smashed cars and eventually, a pedestrian injury, will it take?
Sarah B.