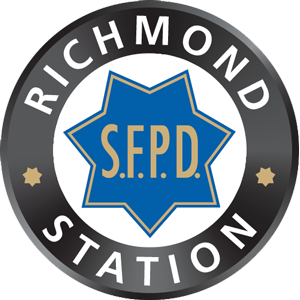 SFPD Richmond District Police Station
Weekly Update 06-04-2015
From Captain Simon Silverman
Contacting SFPD via Social Media Sites:
Our weekly newsletter now goes out via e-mail, gets posted on Nextdoor.com and RichmondSFblog.com, and gets excerpted on Twitter and Facebook (I suspect it's also printed out and used to line birdcages).
If you are reading us on line (or at the bottom of your cage) please remember that the best way to get help in an emergency is to call 911 (415-553-0123 for non-emergency service).
More and more often we get messages via social media that are actually immediate requests for police service. We don't monitor our social media 24/7, but our dispatchers are always there to answer your call (I guess if you're a bird you can still send us a tweet).
Next Community Meeting:
Tuesday 06-16-2015 @ 7:00 PM
Richmond Station Community Room
461 6th Ave.
Here are some of the events that occurred in the Richmond Police District this week:
SCAM
05-29-2015 12:00 PM
Anza & 41st Ave
The victim received a call from the suspect who claimed to be from Microsoft Tech Support and told the victim that he had to pay $299 to have his laptop fixed remotely or terrible things would happen to his files. The suspect demanded that the victim go to the nearest Walgreen's and then call back for payment instructions. The victim recognized that this was a scam and hung up. Nothing bad happened to his laptop.
Captain's Note: I always say that the first clue that a call is a scam is when the suspect demands immediate payment. In this case, the first clue was probably that no one has ever actually gotten a Microsoft Tech Support person on the phone. Like unicorns and cops who hate donuts, I don't think phone calls with Microsoft Tech support actually exist. (Further note: My computer crashed right after I typed that).
ARREST: PACKAGE THEFT
05-29-2015 7:45 PM
Stanyan & Anza
Two alert citizens saw the suspect remove packages from the doorstep of a home and walk off with them, so they called the SFPD. Officers detained the suspect who was trying to hide the packages (one of which she had opened). She admitted to the theft.
ARREST: DUI
05-30-2015 12:16 AM
The Great Highway & Fulton
The driver was going southbound on The Great Highway when she lost control of her SUV and struck the median, shearing three wheels off the vehicle. Officers determined that she was driving under the influence. Thankfully, no other vehicles were involved and no one was injured.
TRAFFIC COLLISION WITH INJURIES
05-30-2015 12:41 PM
Fulton & 30th Ave
A Hyundai was turning from westbound Fulton to southbound 30th Ave. However, it was not safe to turn because a Lexus was coming eastbound on Fulton. The Hyundai and the Lexus collided and the Hyundai careened onto the sidewalk striking a pedestrian before coming to rest against a concrete wall. A total of five people sustained moderate injuries in the collision. The driver was cited.
PUBLIC INTOXICATION / MISSING PERSON FOUND
05-31-2015 3:01 AM
El Camino Del Mar & 25th Ave
Officers responded to a report of a suspicious person. They found the suspect staggering along the sidewalk. She told them that she was drunk, and trying to get home to Polk Street. A records check revealed that a friend had reported her missing last month.
MENTAL HEALTH AND OR DRUG CALL
05-31-2015 11:10 AM
California & 22nd Ave
Officers responded to a report of a woman rolling around in the middle of the street and screaming. The distraught woman told them that she had ingested an unknown drug that she found on the street and that she was trying to get run over. She was taken to the hospital.
ARREST: STABBING / ROBBERY
05-31-2015 12:05 PM
Geary & 35th Ave
The suspect and the victim are roommates. The suspect asked the victim for his credit card to go shopping. The victim refused and the two struggled over the victim's wallet during which the victim stabbed the suspect in the abdomen. She then fled the scene and used the victim's credit cards to make several expensive purchases in the Union Square area. Her shopping complete, she returned home and walked in on the officers processing the crime scene. She was promptly arrested.
THEFTS
05-31-2015 12:36 PM
California & Spruce
The suspect stole a baguette from a café and money from the tip jar at another nearby business. According to the managers of the businesses, the suspect is a local homeless person who has stolen from them in the past and they are tired of it. He has been identified and an arrest warrant has been sought.
ARREST: MISDEMEANOR WARRANT
05-31-2015 8:18 PM
Post & Broderick
Officers were in the area looking for a suspect who has a violent crime warrant. They saw a guy who looked just like the wanted person so they asked him, "Hey, aren't you Johnny?" The suspect replied, "No I'm Billy. His hair is longer than mine." The officers weren't convinced because the resemblance was very close, so they got ID from Billy and found out that he had a misdemeanor warrant.
Captain's Note: I changed the names to protect the guilty. Actually I did it because "Johnny" is still wanted, although I doubt he reads my newsletter. But if he does… Hey Johnny, you owe Billy an apology.
MENTAL HEALTH CALL
06-01-2015 6:40 AM
Point Lobos & 48th Ave
Officers responded to a report of a person driving erratically. They found a woman standing by her car, crying and saying that she wanted to drive into the ocean. She was transported to the hospital.
ARREST: ROBBERY OF A STORE
06-01-2015 11:34 AM
Clement & 7th Ave
The suspect shoplifted a bottle of vodka. When confronted, she brandished a pair of scissors at the store manager and ran outside where she smashed the bottle on the ground.
Captain's Note: By brandishing a weapon (scissors), the suspect turned what was a misdemeanor theft into a felony robbery. Also, it's not a law, but you're not supposed to run with scissors.
BURGLARY / ATTEMPTED AUTO THEFT
06-01-2015 10:00 PM
California & 25th Ave
The suspects broke into an auto repair shop overnight, then stole items from the business and from inside customers' cars. The owner discovered the burglary when he arrived at work the next morning. He checked his security footage and saw the suspects on tape. The next day, the owner was working in the shop when he heard someone trying to start one of his customer's cars. He ran over and saw that the same suspects from the burglary had returned and were trying to steal a car. The suspects fled, but the owner pepper sprayed one of them.
Suspect 1: Black male, 20-25 years old, 6' 200 lbs, wearing a black baseball cap, black sunglasses, a red T-shirt, and black pants (pepper sprayed).
Suspect 2: White male, 20-25 years old, 5'11" 175 lbs, wearing a grey shirt and blue jeans
ARREST: OPEN CONTAINER OF ALCOHOL / OBSTRUCTING POLICE OFFICERS / POSSESSION OF HASHISH OIL
06-02-2015 5:29 PM
Fulton & LaPlaya
Officers were on patrol when they saw a suspect with an open container of beer. They detained him to issue him a citation. During the detention, the suspect kept putting his hands in his pockets although the officers repeatedly asked him not to (this is for the officers' safety since people sometimes carry weapons in their pockets). The suspect then asked if he could smoke and the officers told him to wait until they were done (this is also for the officers' safety). The suspect told them, "Well, it's America. I can do whatever I want." At this point the officers tried to handcuff the suspect to prevent any further safety problems and he began to fight with them. After gaining control of the suspect, the officers found that he had hashish oil in his backpack.
FALSE REPORT OF A CRIME
06-02-2015 6:00 PM
39th & Balboa
Officers responded to a report of youths smoking marijuana. Upon their arrival, the youths ran off, but one of them left his back pack behind. In the backpack, officers found a small amount of marijuana and an iPad. They took this backpack to the station. Several hours later, one of the youths who had run off came to the station and told a fanciful story about being robbed of his iPad.
Captain's Note: The young man had no problem providing details about the made-up robbery, since he was recently arrested for a robbery himself. Go with what you know.
Contact Us:
Call 911 for emergencies
Call 415-553-0123 for non-emergency police service
Richmond Station
461 6th Ave.
San Francisco, CA 94118
415-666-8000
E-mail: SFPDRichmondStation@sfgov.org