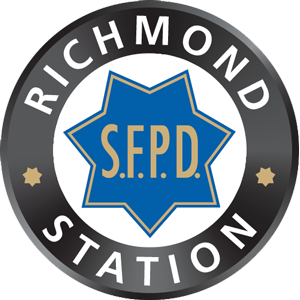 SFPD Richmond District Police Station
Weekly Update 06-25-2015
From Captain Simon Silverman
Here are some of the incidents that occurred in the Richmond Police District this week:
BURGLARY
06-19-2015 1:00 PM to 2:35 PM
Anza & 42nd Ave
Upon returning home, the resident noticed that the side door to her garage had been smashed open. She went into her house and discovered that two computers had been stolen from inside. She then called 911.
Captain's Note: If you return home and see that your house has been broken into, please call 911 before going into the house. If the suspect is still inside the house, I would prefer that they are found by a police officer, rather than by you.
THEFT FROM THE FRONT PORCH
06-20-12015 1:00 AM to 5:00 AM
Hemway & Fulton
The suspect stole a wicker basket from the front porch sometime during the night.
Captain's Note: Thefts of packages, strollers, bikes, children's toys and potted plants from porches are sadly commonplace (although we get relatively few basket cases).
ARREST: STOLEN CAR / FALSE ID TO A POLICE OFFICER / SUSPENDED LICENSE / WARRANTS
06-20-2015 11:54 PM
Geary & Collins
Officers spotted a black Mercedes SUV with no plates doing 58 MPH in a 35 MPH zone. They stopped the driver who told them that the car belonged to his uncle and that he had permission to drive it. In fact, the car had been stolen three months earlier (the owner does not know the suspect). The suspect gave his brother's name to the officers because his own license was suspended and because he had warrants for drunk driving and theft. The officers soon figured out his true identity.
Captain's Note: Every SFPD officer is issued a smart phone with several crime fighting applications including a mug shot database. This is how the officers figured out the suspect's true identity. Facebook for criminals…Yeah, there's an app for that.
ROBBERY / GRAND THEFT FROM A PERSON
06-21-2015 2:28 PM and 2:35 PM
Sutter & Pierce and California & Pierce
The following two incidents were the work of the same pair of youngsters. In the first case, suspect #1 ran up behind a woman who was using her cell phone and tried to grab it from her hands. She hung on to her phone, but he overpowered her. He then ran off with the phone in the company of suspect #2 who was acting as a lookout. In the second case, suspect #1 ran up behind a woman and snatched her phone from her back pocket, then ran off with suspect #2. The woman's husband chased the suspects, and he was joined by a witness who chased the suspects until they ran out of breath. They dropped the phone (which the witness recovered) and ran off out of sight.
Suspect #1: Black male 12-13 years old, 5'8" 130 lbs, wearing a black hooded sweatshirt, dark pants with red plaid boxer underwear visible
Suspect #2: Black male 12-13 years old, 5'8" 135 lbs, wearing a dark hooded sweatshirt
Update: Suspect #1 is now in custody.
CITATION: TRAFFIC COLLISION WITH INJURY
06-21-2015 4:24 PM
MLK & Nancy Pelosi
A driver had just parked his car when he opened his door into the traffic lane which caused an oncoming cyclist to collide with the door. The cyclist sustained moderate injuries.
Captain's Note: The vehicle code states, "No person shall open the door of a vehicle on the side available to moving traffic unless it is reasonably safe to do so…" Bike riders in the City call this common hazard "dooring." If you are on a bike with other riders following you, be a good "ride buddy" and call out a warning when you see a car that you think might present a dooring hazard.
ROBBERY WITH FORCE
06-23-2015 9:20 PM
Sacramento & Locust
The victim was walking down the street and noticed the suspect walking toward her. She greeted him, but he did not reply. After passing the victim, the suspect turned back toward her and struck her in the face at least twice causing her to fall down. It is unknown whether he used an object, his fists or both. The suspect stole her purse and fled on foot. The victim sustained injuries (thankfully, not life threatening).
Suspect: Black male, 35-45 years old, 6'1", medium build, wearing a black baseball cap turned backwards, a black T-shirt with graphics on the front and black jeans. He was clean shaven with short curly black hair.
Possible Witness: The victim recalls speaking to a person collecting recyclables in the area who may have witnessed the crime. He is described as an Asian male about 55 years old. We would like to speak to this person (he is not a suspect). If you are this person or if you have any information about the crime, please call us at 415-553-0123.
ARREST: DUI / HIT & RUN / TRAFFIC COLLISION WITH INJURY
06-23-2015 10:14 PM
Geary & 3rd Ave
The suspect was driving westbound on Geary at 3rd Ave when he turned in front of a car that was coming eastbound resulting in a collision. The suspect then drove off but was caught a short distance away by officers who determined that he was driving under the influence. The driver and passenger in the car he hit both suffered minor injuries.
Captain's Note: DUI and Hit & Run are both misdemeanor offenses. However, if the suspect causes injury to another (as was the case here) they both become felonies.
ARREST: DISCHARGE OF A FIREARM / POSSESS LOADED FIREARM / FELON POSSESS FIREARM
Balboa & 18th Ave
06-24-2015 12:10 PM
Sometimes, when a case is still under investigation, it is best not to disclose details about the case in order to safeguard the investigation. This is one of those times.
ARREST: VANDALISM
California & 7th Ave
06-24-2015 12:30 PM
Members of the Department of Parking and Traffic (DPT) placed a "boot" wheel immobilization device on a pick-up truck that had numerous unpaid parking tickets. As they were passing back by the pick-up truck about 30 minutes later, they saw the suspect trying to give the boot to the boot with a blow torch, a pry bar and a hammer. Although the suspect damaged the boot beyond repair, he did not succeed in removing it.
SHOPLIFTING TURNED ROBBERY OF A STORE
Geary & 28th Ave
06-24-2015 1:45 PM
The suspect shoplifted several jars of face cream. When confronted by store security, she threatened them that she had a gun. Although no gun was seen, the security officers were justifiably afraid and let her go.
Captain's Note: By threatening the security officers, the suspect turned a misdemeanor shoplifting case into a felony robbery one.
Suspect: Black Female, 45-50 years old, 5'6" 160 lbs, wearing a pink tank top, pink sweater, denim skirt, white socks and white shoes.
ARREST: ILLEGAL MARIJUANA CULTIVATION / THEFT OF UTLITIES
Balboa & 19th Ave
06-24-2015 2:00 PM
Two weeks ago, a roofing contractor hired by the landlord reported to him that he smelled the odor of growing marijuana coming from inside the home. Subsequently, the landlord was painting the exterior of his rental property when he noticed new conduit leading from the electrical box to the interior of the house. He called PG&E to check on this unauthorized modification. The expert who responded saw that the main electrical box had been tampered with so he immediately shut off the electricity. Responding officers could smell the strong odor of growing marijuana as they stood outside on the sidewalk. A search of the home revealed elaborate lighting and watering systems supporting 81 marijuana plants each about 3-4 feet tall.
Captain's Note: Electrical fires can result from tampering with the utility box. This home is surrounded on all sides by other homes and the irresponsible actions of the grower posed a threat to his neighbors. That threat was not limited to electrical fires. I have seen several cases where other criminals become aware of an illegal marijuana growing operation and commit armed robberies seeking the drugs and the money to be found in the house.
We do not believe that this incident is related to the earlier firearms discharge at Balboa & 18th Ave.
Next Community Meeting:
Tuesday 07-21-2015 7:00 PM
Richmond Station Community Room
461 6th Ave.
San Francisco, CA 94118
415-666-8000
Contact Us:
Call 911 for emergencies
Call 415-553-0123 for non-emergency police service
Richmond Station
461 6th Ave.
San Francisco, CA 94118
415-666-8000
E-mail: SFPDRichmondStation@sfgov.org