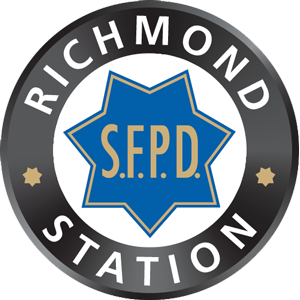 SFPD Richmond District Police Station
Weekly Update 07-02-2015
Captain Simon Silverman is temporarily out of the office
Here are some of the incidents that occurred in the Richmond Police District this week:
PICKPOCKET
06-26-2015 4:25 PM
Clement & 8th Ave.
The victim was leaving an extremely busy supermarket after making a purchase at the register. He secured his wallet in his jacket pocket. The victim stated he was bumped several times attempting to exit the store. When he went home he realized his wallet was missing. The victim was unable to give any suspect information.
Note: Always keep your property and valuables close when you are in crowded areas. You never know when someone is "bumping" into you to distract you and steal your belongings.
FIRE REPORT
06-26-2015 12:09 AM
BALBOA & 15TH Ave.
Officers were dispatched to Balboa and 15th Ave., regarding a possible vehicle arson. The engine and front of the vehicle had been badly burned. SFFD arrived on scene and extinguished the fire. The cause of the fire was not suspicious and was determined to be a mechanical malfunction.
ARREST: DRIVING WHILE UNDER THE INFLUENCE OF ALCOHOL
06-27-2015 1:33 AM
CALIFORNIA & SPRUCE ST.
Dispatch was advised there was a possible drunk driver traveling westbound on California St., towards Spruce St. When Officers arrived they located the vehicle facing westbound in the eastbound lane of traffic, with the driver unconscious behind the wheel. After many attempts of waking the driver, he finally came to and said, "Yeah, yeah I'm fine. I'm not driving." The Officers determined the driver was under the influence of alcohol and placed him under arrest.
ARREST: GRAFFITI
6-28-15 3:07 AM
GEARY & COLLINS ST
Officers were patrolling the area of Geary and Collins St., when they observed a male crouching on the ground holding something up against the wall. The Officers exited their vehicle and when they got closer to the suspect they saw he was spray painting on the building. The suspect had numerous pieces of graffiti paraphernalia on him including: spray can tips and pens, not to mention paint all over their hands! Due to the monetary value of the damage this crime was a misdemeanor offense, so he was cited and released at the scene.
ASSAULT WITH CAUSTIC CHEMICALS
6-28-15 4:40 PM
FULTON & LA PLAYA
Officers responded to the above listed area on a call of a person being sprayed with mace. They located the victim whose face was bright red and eyes were swollen shut. The victim told the Officers she had gotten into an argument with a long time friend. The male suspect got angry with her since she didn't wake him up for an important meeting and a physical fight ensued. In attempt to get away from the male suspect, the victim spayed him with mace and ran off to the bus stop with her belongings. The suspect followed and was able to take the mace from the victim and sprayed her in her eyes/face. Several Officers arrived on scene to search for the suspect, but they were unable to locate him.
Suspect: White male, 36 years of age, 5'10, 188 lbs. Last seen wearing black jacket, green shirt and blue jeans.
FALSE REPORT OF EMERGENCY
6-29-15 1:24 AM
GEARY & 14TH AVE
Officers responded to the 7-11 store located at 14th and Geary for an alleged Robbery in progress. Several units responded. When the first Officers arrived on scene they determined there was no emergency and searched neighboring 7-11's. It ended up being a false call and there was no actual emergency. The identity and motive of the caller remains unknown.
ROBBERY W/ FORCE
6-29-15 6:46 PM
ARGUELLO & GOLDEN GATE AVE
A male suspect entered the bike store and threatened to kill the employee who worked there. The suspect grabbed a nearby bicycle and attempted to exit the store with the bike. The employee stepped in front of the suspect in an attempt to get the bike back. The suspect then punched the employee in his shoulder and fled with the bike. Photos & Video
Suspect: White male, 25-30 years of age, 6'1', 225 lbs, black hair.
THEFT FROM LOCKED VEHICLE
6-29-15 9:45 PM
GEARY & 16TH AVE
A vehicle was parked at the above location, locked and secured. When the victims returned to their vehicle they discovered the rear cargo window broken and several items missing. Included in those items was $2000.00 in US currency. No suspect description.
Note: Never leave anything in your vehicle. Not even for 15 minutes. What you know to be a gym bag filled with sweaty clothes to a burglar looks like a bag full of treasure. All it takes is for a burglar to walk by and notice something that might contain valuable items. It's a good idea to even tuck away phone charging cords and loose change.
THEFT FROM LOCKED VEHICLE
6-29-15 2:44 PM
34TH AVE (LEGION OF HONOR)
The victims parked their vehicle in the parking lot of the Legion of Honor and walked across the street to take photos. Shortly after they heard an alarm sounding and saw an unknown male suspect taking items out of their vehicle. The suspect jumped into a waiting getaway vehicle and fled the scene.
Suspect #1: Black male, 20-24 years of age, 5'8', black hair.
Suspect #2: Black male (getaway driver), 20-24 years of age, black hair.
THEFT OF PROPERTY
6-30-15 9:47 AM
The victim reported someone had stolen a very large tree trunk from their yard.
No suspect description.
Note: Be on the lookout for a possible lumberjack carrying a large piece of wood.
ARREST: TRAFFIC
7-1-15 12:09 AM
GEARY & 6TH AVE
Officers observed a vehicle traveling at a high rate of speed. They conducted a traffic stop and discovered the driver was unlicensed. They cited him and released him at the scene.
ASSAULT WITH CAUSTIC CHEMICAL
7-1-15 10:33 PM
25TH & MLK
Three victims were walking through the park when an unknown male suspect jumped in front of them and sprayed them in the face with mace. All three victims had never seen the suspect before and wouldn't be able to recognize him if they saw him again. The suspect and motive are unknown at this time.
Next Community Meeting:
**Vision Zero Presentation by MTA @ next Community Meeting on 7-21-15**
Tuesday 07-21-2015 7:00 PM
Richmond Station Community Room
461 6th Ave.
San Francisco, CA 94118
415-666-8000
Contact Us:
Call 911 for emergencies
Call 415-553-0123 for non-emergency police service
Richmond Station
461 6th Ave.
San Francisco, CA 94118
415-666-8000
E-mail: SFPDRichmondStation@sfgov.org