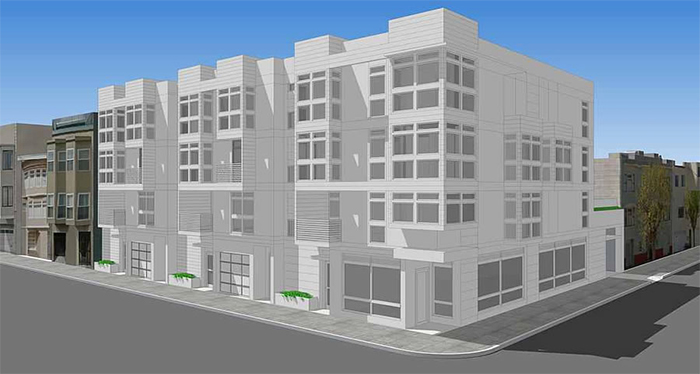 The proposed mixed-use development at 301 25th Avenue
Socketsite reported yesterday that the 76 gas station at the corner of 25th and California (301 25th Avenue) is slated to be replaced by a new development of "three four-story buildings, each with three three-bedroom units".
The building is designed at 40 feet tall, and each of the 12, 3-bedroom units will include a parking space. It's unclear whether these will be rental units or condominiums.
The building will also have a 1,400 square foot retail space on the ground floor. Socketsite reports that the project is currently under environmental review.
The architects on the project are Ian Birchall and Associates. They are the same firm behind the proposed 23-unit building slated for the Mel's Diner lot at 3355 Geary.
While gas stations are disappearing across the city in favor of housing developments, this is the first one in the Richmond District (though some readers had hoped the service station at 32nd & Clement would be swallowed into the development that took over the European Market next door…).
But drivers need not panic – there is a gas station just a few blocks away on Geary at 24th Avenue. Even if the development is approved by Planning, the actual construction is months away as these things take time.
Some readers may remember that the 76 station was the target of an ADA lawsuit back in 2011.
Sarah B.