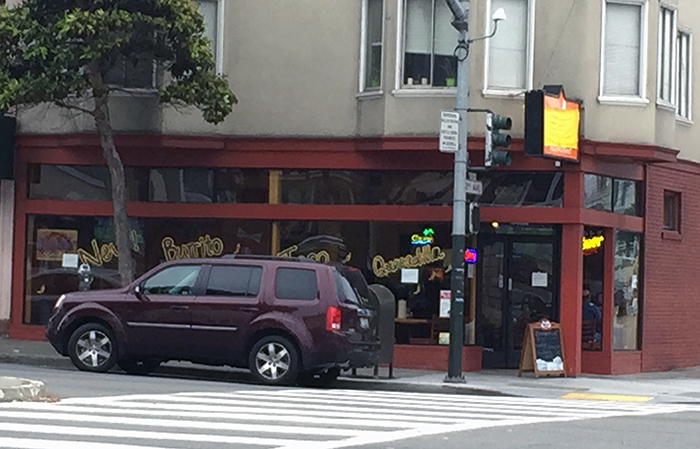 The former BBQ turned Fajitas spot at Geary & 3rd Avenue is now offering burritos and quesadillas
MESCOLANZA IS BACK
After 26 years on outer Clement, the much beloved Mescolanza Restaurant is now open for business in their new spot at the corner of 2nd Avenue and Geary. They're open Sunday through Thursday from 5pm until 9:30pm, and until 10pm on Friday and Saturday nights.
NEW WINE SHOP COMING TO CLEMENT
A new wine shop called The Spanish Table is coming to 130 Clement Street, adjacent to Chapeau! restaurant. The company, which already has stores in Berkeley, Seattle and Mill Valley, offers wines from Spain, Portugal, Argentina, and Chile. They specialize in hard to find sherries, ports, madeiras, and more. No word yet on when they'll open – their license to sell alcoholic beverages is under review.
Update: Tanya, the manager for the upcoming Spanish Table said they hope for a September/October opening, and shared this additional info about the store: "We not only sell wine, but also lots of delicious food items from Spain, Portugal, and North Africa. Meats (like Jamon and Chorizo) along with Manchego cheese, olives, great olive oils, and spices. We will also have a small, but well-curated selection of cookbooks (for making tapas and paella at home as well as some more exotic books). Of course, we also import paella pans for 2 – 200 people and the beautiful and functional earthenware dishes called cazuelas. Our selection of hand-painted ceramics from Spain and Tunisia make great gifts, so we have that covered as well."
FAJITAS NO MAS AT GEARY & 3RD
Across the street from Mescolanza, change is continuously underway in the old BBQ spot. For a nanosecond, it was a place called "Fajitas". But that sign has been covered up and the windows now advertise "New burrito taco quesadilla". Unsure if this is the same owner who keeps trying new concepts but we'll see how they fare.
MINAMI SUSHI CLOSING AFTER 21 YEARS
Reader Francisco tells us that neighborhood sushi spot Minami, at the corner of 20th and Clement, is closing its doors after 21 years. "It looks like they will be retiring and closing July 31st, they have a sign on their windows" Francisco said.
HOT POT GRILL NO MORE
The windows of the Hot Pot Grill at the corner of 10th Avenue and Clement have been papered over for a few weeks now. No sign of a new business opening up there.
FOOD SPOTS FOR SALE
A few other businesses in the neighborhood are up for sale. La Cuidad de Mexico, the tiny tortas spot at 200 6th Avenue has listed themselves on Craigslist for $35,000. Over on Geary, two corner businesses are listed for sale. Coffee Break at the corner of 10th Avenue is asking $85,000, and Infinitea at the corner of 18th Avenue and Geary had a listing up that is now closed (it is either in escrow at this time or has recently been sold).