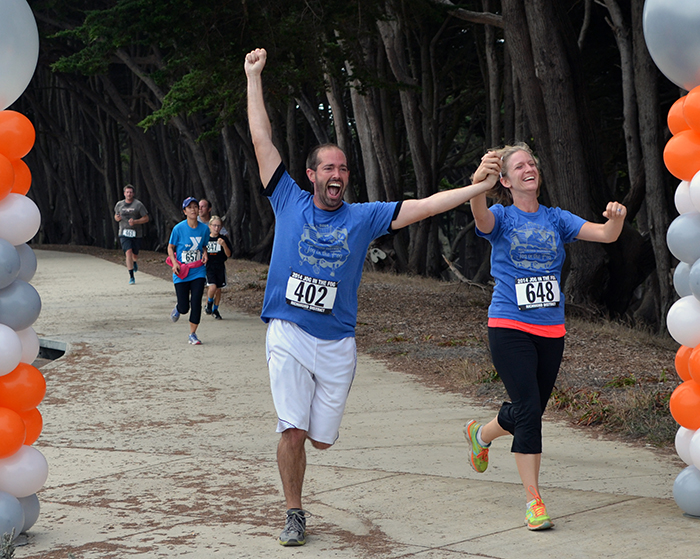 It's time for the 3rd annual Richmond District Jog in the Fog 5k, when hundreds of residents lace up their running shoes and make their way over a 5k course from Mountain Lake Park out to Lands End.
The Jog in the Fog 5k, presented by Kaiser Permanente, is a fun run/walk for the whole family that takes place on Sunday, September 13. Come out and enjoy a great course through the scenic Richmond District, enjoying our beautiful parks and coastal scenery along the way.
Every race entry includes a souvenir t-shirt featuring the Jog in the Fog logo designed by neighborhood artist Andy George. Race registration is just $40 for adults (13+) and FREE for kids age 12 and under.
And new this year – professional, digital race timing provided by our sponsor A Runner's Mind! As soon as you cross the finish onhealthy priligy dapoxetine line, you can look up your time in the finish area or online, and then brag about it to your family and friends. 😉
This year, proceeds will benefit the Richmond District YMCA located on 18th Avenue near Geary. With over 4,000 members and program participants, the Richmond District YMCA offers creative movement classes for youth, after school care; summer camp; family programs; teen programs; senior programs; adult health and fitness; and a variety of community programs, from food assistance for low income immigrants to free community health days.
So what are you waiting for? Register today for your spot at the Jog in the Fog start line. We can't wait to see you on race day!
Sarah B.
THANK YOU TO OUR 2015 JOG IN THE FOG SPONSORS
PRESENTING SPONSOR