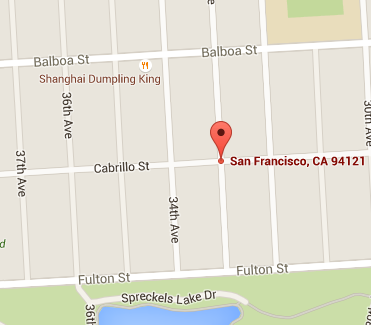 Some very sad news today… A 61 year-old woman was struck and killed by a vehicle on Monday while crossing the street at Cabrillo Avenue and 33rd Avenue in the outer Richmond.
The Chronicle reports that the woman, Rose Kelly, was hit by a GMC truck at 1:21 p.m. while in the crosswalk. There is a 4-way stop at this intersection.
The victim suffered chest and head injuries and died at San Francisco General Hospital.
The name of the truck's driver has not been released, and no arrest was made at the scene. There is a pending SFPD investigation into the incident.
UPDATE 7/22/15: The truck driver, San Francisco resident Bing Zuo Wu, 61, has been cited for misdemeanor vehicular manslaughter and for failing to yield to a pedestrian. According to San Francisco District Attorney's Office spokesman Max Szabo, Wu has not been formally charged and since he only received a citation, he will likely be ordered to appear in court within four to six weeks. [SFAppeal]
Sarah B.