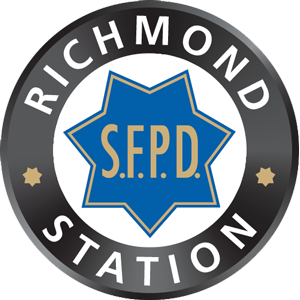 Here are some of the incidents that occurred in the Richmond Police District this week:
MENTAL HEALTH CALL
09/11/2015 8:58 PM
Geary & 6th Ave
Officers responded to 911 calls about a person walking in traffic and yelling at cars. As they arrived, they saw the subject run up to a passerby and pull the man's hood off of his head. The subject resisted officers' efforts to detain him and they had to handcuff him. He appeared to be suffering a psychiatric crisis, and they called for paramedics who took him to the hospital.
ARREST: ASSAULT WITH A DEADLY WEAPON / RESISTING ARREST / PROBATION VIOLATION
09/12/2015 12:30 PM
MLK & 25th Ave in Golden Gate Park
Witnesses saw the suspect strike the victim in the face with a tree branch. When officers went to detain the suspect he assumed a fighting stance, balled up his fists and refused to comply. The suspect was on probation for previous violent crimes.
ARREST: DUI
09/14/2015 2:39 AM
California & Spruce
A sergeant was on patrol when a speeding car ran a red light and nearly hit his marked police car. The driver admitted to having just "one Bud Light" but her blood alcohol results were over twice the legal limit.
ARREST: DOMESTIC VIOLENCE / FELON IN POSSESSION OF A FIREARM
09/15/2015 7:46 PM
Sutter & Baker
Officers responded to a domestic violence call at a residence. One of the parties involved was a convicted felon in possession of a shotgun.
BANK ROBBERY
09/16/2015 12:55 PM
Clement & 6th Ave
The suspect approached the teller window, told her that he had a gun (none was seen) and demanded money.
Suspect: Asian male, 60-70 years old, 5'8" 155 lbs, wearing a white baseball cap, black jacket, black pants and sunglasses.
ARREST: AUTO BURGLARY / POSSESSION OF STOLEN PROPERTY / WARRANTS
09/16/2015 2:40 PM
Fulton & 18th Ave
A resident returned home and parked her car on the street in front of her husband's car. She noticed a stranger rummaging around inside of her husband's car so she called her husband who came out and chased the suspect off. Officers caught the suspect a short distance away in possession of property stolen from the victim's car along with stolen property from another incident the previous day. In addition, the suspect had several warrants for his arrest.
MENTAL HEALTH CALL / BATTERY / VANDALISM
09/16/2015 3:10 PM
Balboa & 15th Ave
The suspect was banging on the door of a closed church. When the priest went to investigate the banging, the suspect forced his way in and appeared to be in psychiatric crisis. He knocked over and damaged a religious icon and punched the priest (causing minor injuries). Officers arrived and arrested the suspect. Due to his mental status, he was taken to the hospital.
ARREST: STOLEN VEHICLE / PROBATION VIOLATION
09/16/2015 6:00 PM
Blake & Geary
Officers responded to a report of a person asleep in a pick-up truck with the door wide open. They found the suspect who told them that he was sleepy from his prescribed methadone. The officers contacted the registered owner of the truck who had just noticed that his truck had been stolen from his home in Marin County. The suspect is already on probation for burglary.
ARREST: SHOPLIFTING / PAROLE VIOLATION / WARRANTS
09/17/2015 3:00 PM
Geary & 27th Ave
Store security officers saw the suspect shoplift several items and they called the SFPD. The suspect was already on parole for burglary and had several warrants for his arrest.
MENTAL HEALTH CALL
09/17/2015 9:58 PM
Sutter & Presidio
A wife called 911 because her husband was suicidal and armed with a knife. Officers arrived and safely detained the man who told them that he was waving the knife around in the hope that officers would shoot him.
ARREST: DUI
09/18/2015 1:28 AM
Geary & 4th Ave
Officers on patrol saw a BMW make an unsafe turn and double park. They contacted the driver who appeared to be under the influence and who told them that he had only had, "two drinks… well maybe three." His blood alcohol results were over 0.2%.
Contact Us:
Richmond Station
461 6th Ave.
San Francisco, CA 94118
415-666-8000
E-mail: SFPDRichmondStation@sfgov.org