As the city's rents continue to climb and landlords refuse to renew leases or engage in frivolous evictions in hopes of raising their rents for new tenants, it's becoming harder and harder for renters in the Richmond District to hold onto their homes.
In August, the Chronicle reported that the median rent in San Francisco hit $3,530 a month for a one-bedroom apartment.
That same article, which relies on a report from Zumper, puts the median rent for a Richmond District 1-bedroom at $3,140 in the inner Richmond, and $2,800 in the outer.
In short, it sucks to be a renter right now.
Even households with healthy, dual incomes are feeling the crisis and critical populations like artists, which are crucial to the diverse character of San Francisco, are being forced out of the city. A recent survey of nearly 600 artists from the San Francisco Art Commission found that over 70 percent had been or were being displaced from their workplace, home, or both.
Students are feeling the heat as well – bunkbeds in crowded apartments (read: 30 people) are renting at $1,800 a month [CBS5].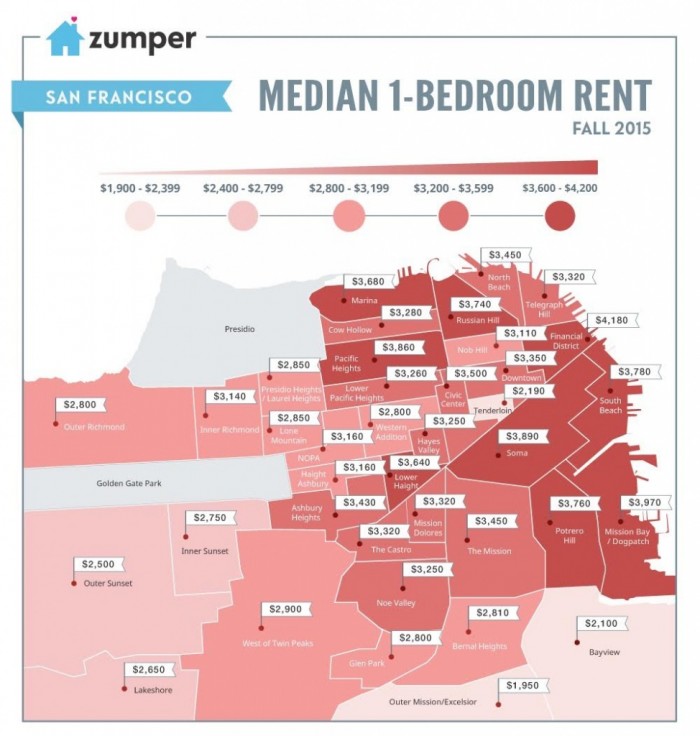 NEW TENANT PROTECTIONS VOTED IN BY BOARD OF SUPERVISORS
On Wednesday, the Board of Supervisors
passed new tenant protections
that make it harder for landlords to raise the rent or evict tenants when they bring in roommates, harder for landlords to evict tenants for minor violations without first giving them a chance to correct the violation, and increase tenant notification requirements for such violations and evictions.
"The only way a lot of people can live in San Francisco is because they have a lot of people living in an apartment," Supervisor David Campos, who co-sponsored the legislation, said. "That's the way that folks are able to afford to live in San Francisco."
RICHMOND DISTRICT TENANT TOWN HALL THIS SATURDAY
This Saturday, Supervisor Eric Mar will host a "Our Richmond / No Eviction" town hall public meeting at the Richmond District Recreation Center from 1-3pm:
Tenant rights organizations, including the Housing Rights Committee, Tenants Together, the San Francisco Community Land Trust, and ACCE, will be there to provide information on what tenants who are faced with eviction can do.

The Our Richmond/No Eviction town hall is part of a broader strategy which includes the small sites acquisition fund, and the establishment of a Richmond District Services Center, that will include tenant counseling services, to support Richmond District residents as our neighborhood struggles with the Citywide eviction and displacement crisis.

The displacement of families, seniors and low and moderate income residents has been growing over the past year and has to be dealt with in a multifaceted and comprehensive manner. This gathering is a great way to bring tenants together to share information and empower themselves.
The Richmond Recreation Center is located at 251 18th Avenue between California and Clement.
Sarah B.
Related: SFExaminer: Richmond district feels housing crunch