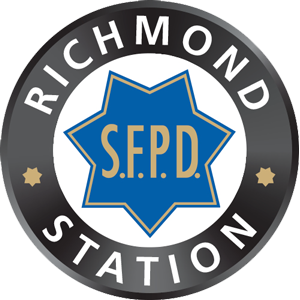 SFPD Richmond District Police Station
Weekly Update 10-09-2015
From Captain Simon Silverman
The Next Community Meeting is at the Library:
Tuesday 10-20-2015 at 7:00 PM at the Richmond Branch of the San Francisco Public Library
351 9th Ave
Here are some of the incidents that occurred in the Richmond Police District this week:
THEFT FROM AN AUTO
10/01/2015 10:42 AM
Balboa & 36th Ave
The victim went into a coffee shop leaving her camera visible on the back seat of her car. The suspect smashed the window, took the camera and fled.
Captain's Note: I strongly advise against leaving anything in the car – even if you're going to be gone for just a few minutes.
ARREST: HIT & RUN TRAFFIC COLLISION
10/01/2015 8:15 PM
Lake & 24th Ave
The driver of a Ford pick-up was headed south on 24th Ave when he sideswiped four parked cars. He then fled the scene, but an alert witness called the SFPD. Officers found the driver a short distance away and arrested him.
PICKPOCKET / ROBBERY
10/02/2015 12:48 PM
Geary & 25th Ave
The victim (a 78 year old man) was putting letters in the corner mailbox when the suspect lifted his wallet from his pants pocket. The victim saw the suspect holding his wallet and demanded it back at which point the suspect punched him in the head and ran off.
Suspect: Black male, 30-35 years old, 5'8" 175 lbs, wearing a green long sleeved T-shirt.
ARREST: DRIVING WITH A SUSPENDED LICENSE / POSSESSION OF METHAMPHETAMINE
10/02/2015 7:38 PM
Lincoln & 38th Ave
Officers pulled over a Mercedes with a registration that had expired over 9 months ago. The driver had a suspended license and about a half ounce of methamphetamine.
ROBBERY
10/02/2015 8:30 PM
JFK & 30th Ave
The victim was walking along a wooded path when an unknown person struck her from behind causing her to fall down and briefly lose consciousness. The suspect took her backpack and fled.
ASSAULT
10/03/2015 1:00 AM
Cabrillo & 44th Ave
The victim got kicked out of a house party by the hosts. As the victim was standing outside, an unknown suspect threw a bottle at him causing a laceration on his head.
Suspect: White male, 20 years old, 6'1" 160 lbs, long hair, wearing a black jacket and jeans
HOMICIDE: 3 SUSPECTS ARRESTED
10/03/2015 9:15 AM
JFK west of Chain of Lakes
At about 9:15 AM on 10/03/2015 a passerby found the body of Audrey Carey, a young woman visiting San Francisco from Quebec. A few days later, there was a homicide in Marin County that bore similarities to our Golden Gate Park case. Yesterday, three suspects were arrested in Portland, Oregon for the Marin case. These suspects had Audrey Carey's property in their possession. Based on further investigation, they are also being charged with the robbery and murder of Audrey Carey.
ARREST: AGGRAVATED ASSAULT (DOMESTIC VIOLENCE)
10/03/2015 9:30 PM
Clement & 19th
The suspect became angry at his girlfriend and smashed her in the head with a grocery bag that contained a glass jar. This resulted in significant injuries to the side of her head.
BIKE THEFT
10/04/2015 5:00 PM
JFK & Transverse
The victim locked his $3500 road bike to a rack using a cable lock. He returned a few hours later to find the cable lock cut and the bike stolen. The bike was not registered and the owner could not provide SFPD with a serial number.
Captain's Note: Cable locks are not effective because just about any cable can be quickly and easily cut. Without a serial number it is very unlikely that the owner will get his bike back. For tips on registering and locking your bike visit www.safebikes.org
ROBBERY
10/04/2015 9:30 PM
Cabrillo & 29th Ave
The victim and a friend were walking when the suspect ran up and grabbed the victim's purse. They struggled briefly and the suspect pushed the victim to the ground before fleeing with the purse.
Suspect: Latino male, 5'8" 250 lbs, wearing a black hat and a dark jacket
ROBBERY
10/05/2015 7:57 PM
Cabrillo & 19th Ave
The victim was walking when the suspect approached her from behind and tugged her purse off her shoulder. She tried to maintain control of the purse, but the suspect wrenched it from her grip and fled on foot.
Suspect: Latino male, 30-35 years old, 5'6" 175 lbs, wearing a red white and blue jacket
INDECENT EXPOSURE
10/07/2015 9:20 PM
Cabrillo & 25th Ave
The victim was walking when the suspect approached her, stuck out his tongue, then unzipped his pants and exposed himself.
Suspect: Latino male, 20-25 years old, 5'5" 160 lbs, wearing a black baseball cap, black and white jacket and dark pants.
ROBBERY
10/08/2015 1:59 AM
Fulton & 24th Ave
The victim was standing on the sidewalk when the suspect approached her, wrapped his arms around her so she couldn't move and grabbed her cell phone from her hands. He then fled on foot.
Suspect: Black male, 20-25 years old, 5'8"
BURGLARY OF AN OCCUPIED RESIDENCE
10/08/2015 5:15 PM
Balboa & 12th Ave
A 15 year old was home alone when she heard footsteps on the stairs. The suspect appeared in her doorway and when he saw her he said, "I'm sorry, I'm looking for the open house." He then walked downstairs and left. When her mother returned home about an hour later, the teen told her what had happened. After checking the house, the mother realized that several items were missing. The suspect may have entered through an unlocked door.
Suspect: Black male, 40-45 years old, 5'8" 150 lbs, wearing all black clothing.
Contact Us:
Richmond Station
461 6th Ave.
San Francisco, CA 94118
415-666-8000
E-mail: SFPDRichmondStation@sfgov.org