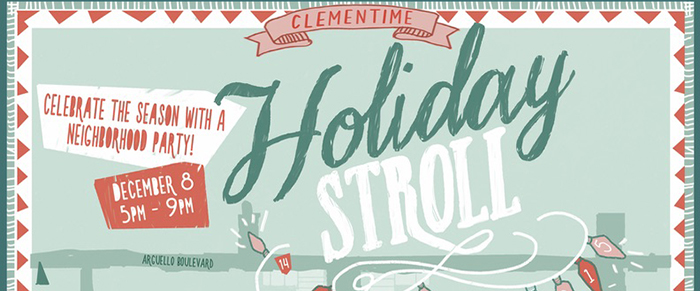 Next Tuesday night, stop by Clement Street for the annual Clementime Holiday Stroll, sponsored by the Clement Street Merchants Association.
Take a stroll on Clement Street (Arguello to 8th Avenue) from 5pm until 9pm for an evening of holiday cheer by supporting your local merchants and restaurants. Participating businesses will be offering special discounts and promotions as well as offering tasty treats and adult beverages.
Burma Superstar, B Star and Eats– Serving hot drinks and sweets.
Covet – Complimentary champagne and a free jewelry charm with purchase of $30 or more.
Foggy Notion – Inner Richmond resident Tim Obert, founder of Seven Stills distillery, will be serving a seasonal cocktail featuring his San Francisco-made bitters. Also Joe Ferriso will be making watercolor portraits.
Green Apple – giving away FREE Beer! (21+, of course)
Kinship Salon & Barber – AVEDA gift bar and 10% off retail purchases of $50 or more (10am – 7pm) and complimentary "10 minute hair refreshers" with Victoria or Jasmine. (5 – 7pm)
Kisha Studio – 10% off and complimentary wine.
Koja Kitchen and Little Vietnam Cafe– 10% off purchase, balloons and complimentary champagne.
Park Life – will have drinks and 10% purchases over $75, get your gift shopping on!
Presidio Preschool (143 Clement) – Children's Winter Art Project at Presidio Preschool (5:00-6:30 pm)
Pretty Please Bakeshop – Complimentary eggnog and 10% off all sales and holiday preorders.
Seedstore – Trunk Show with Schott NYC! Free gift wrapping and complimentary beer tasting from SF's own, Comrades Brewing.
Sparky's Fun and Joy – Balloon twisters, local musicians, caramel popcorn and more! Bring the kiddos!
The Spanish Table – Celebrate the two week mark of the opening of our first shop in San Francisco with us! Complimentary Spanish hot chocolate will be served along with samples of cheeses, marcona almonds, olives and special Spanish holiday Turron. Owners Andy and Tanya will be on-hand to dispense expert Paella advice. Perfect for holiday entertaining!
Wee Scotty – Search in the sno for a penguin souvenir (5pm-6pm; perfect for children ages 2-10)!! Free sewing activities, new top of the line Husqvarna Viking sewing demos and discounts.
William the Bee Keeper – Complimentary William the Bee Keeper gifts, mulled wine, coffee, hot chocolate and candy canes, plus 10% off all purchases.
Woot Bear – Will be offering 20% off on select items, and gifts with purchase over $50.
Happy Holidays!
Sarah B.